Callimats are three-dimensional wrapped mats covered with fine art paper. This allows fine art calligraphy and artwork to become totally integrated by drawing it onto the mats extending the art and mats as a unit. These innovative pieces utilize sumi inks, Chinese watercolors, gouache, Prismacolor pencil, graphite, and 24k gold leaf.
Unlike traditional framing, the mats are created along with the calligraphy and inner art. Traditional framing protects and showcases completed art after the completiton of the original.
Spacers between the deep bevel wrapped mats help create an added depth and dimension, and no two callimat creations are ever alike.
Thank You
This project is 24"x24" brush lettered using gouache with Prismacolor pencil roses. Mats are wrapped with Mulberry rice paper over 3/16" acid free foam board.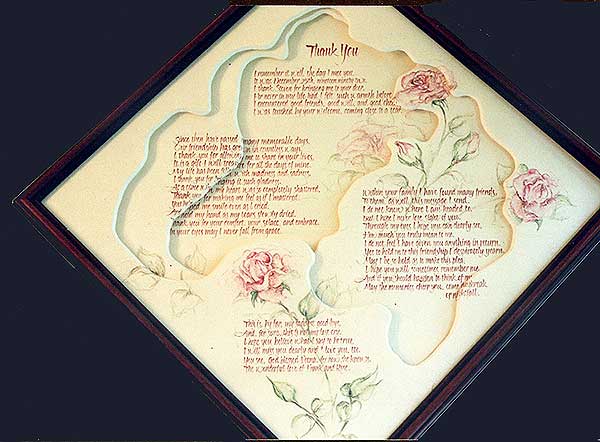 Wedding Vows
This project is 16"x16" brush lettered using gouache, flowers in Prismacolor on Mexican bark paper.