Paschke Online
Designs Ink Publishing Article Archive and Reference Library
Articles by Chris A. Paschke, CPF GCF
"Digital Canvases And The Adhesives That Love Them"
October 2006
The digital canvas debate goes on and on like the Energizer Bunny, and no doubt may never reach any unanimous resolution (photo 1). There are two issues that haunt a digital canvas: flaking inks and sagging once stretched. Flaking inks may be controlled by the correct choice of coated canvas, ink and printing system, while sagging canvases are tougher to control.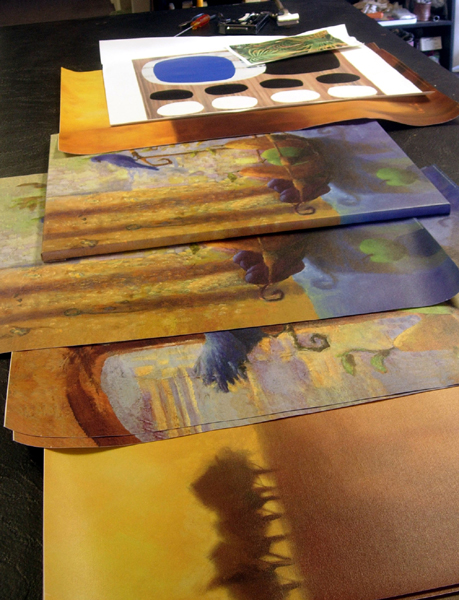 Photo 1
Assorted Test Canvases (Bottom to top) Open edition canvases from Wild Apple Graphics, "Standing on the Edge I and II" by Cantlin; "Blue Bird Song I and II" by Goggio (II stretched); and Grand Image test canvases "Shapes" and "Palms".
Flaking and Cracked Inks
Earlier this year I explained the differences between swellable and porous paper coatings for inkjet printing and how the coatings impact heat sensitivities ("Mounting Digital Papers", PFM February 2006). These same receptor coatings are used on raw canvas to make them ink receptive. White digital canvases are not traditional gesso coated canvas, but rather white swellable or porous receptor coatings on raw (or bleached white) canvas. These coatings are required to receive digitals inks and prevent them from bleeding or spreading when applied to a porous canvas or fabric. The coating controls the ink but in turn impacts traditional handling of the canvas art. Thus digital canvases come with their own set of issues, variables, and requirements which react unlike traditional oil and acrylic canvases.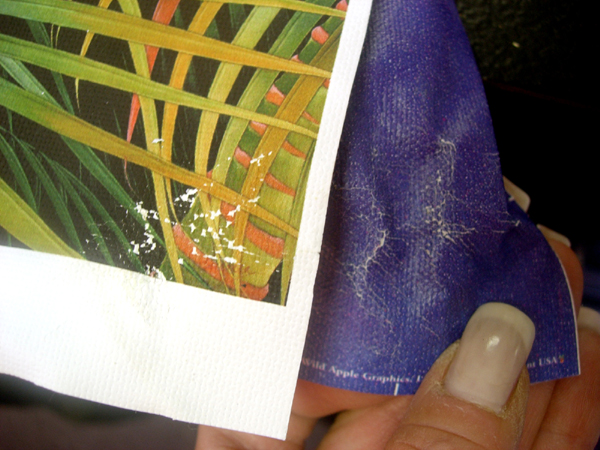 Photo 2
Flaking and Over Work: The left sample is a good example of flaking inks from a coated inkjet image. The right sample is merely an over worked corner with surface cracked inks but not flaking.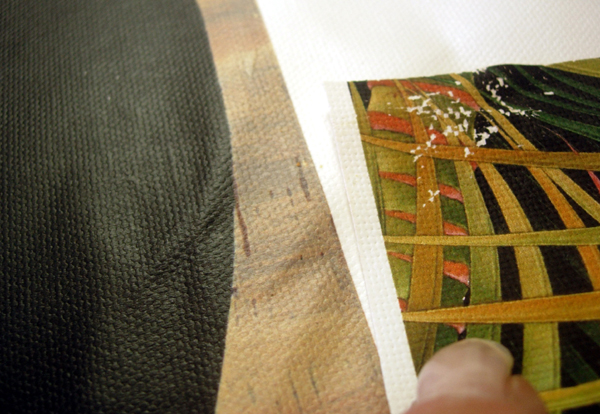 Photo 3
No Cracking or Flaking: The left sample feels like a vinyl canvas material, though unidentified. It shows not cracking, flaking or damage when aggressively rubbed together. Right sample is a digital inkjet on coated canvas that flaked.
Mismatched materials or untested ink/canvas combinations are generally the ones that have adverse reactions to the aggression of stretching over bars, resulting in inks that flake from the canvas at the corners or crack when pulled with canvas pliers during stretching (photo 2). This problem does not occur with all inkjet images on canvas (photo 3). Use of OEM (original equipment manufacturer) products such as an Epson printer, Epson ink, on Epson approved coated canvas will result in a well printed digital canvas that does not flake once stretched, though a white line of cracked ink may still remain visible (photo 4). That line is merely the surface ink cracking to reveal the white receptor coating and/or canvas beneath it, though it should not flake off (photo 5).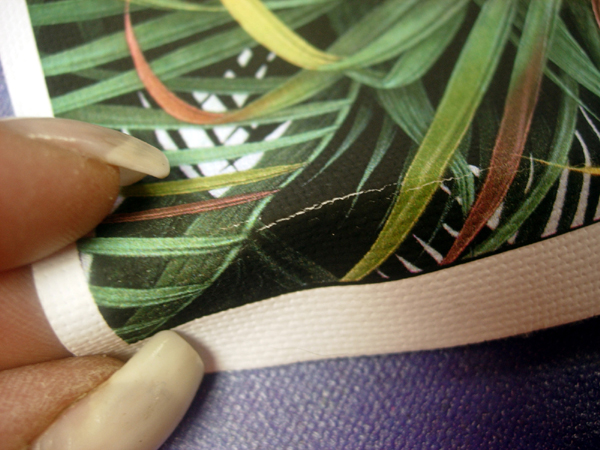 Photo 4
Surface Cracking: This sample shows the inks cracked when the canvas is folded 90 degrees, such as when placed over bars.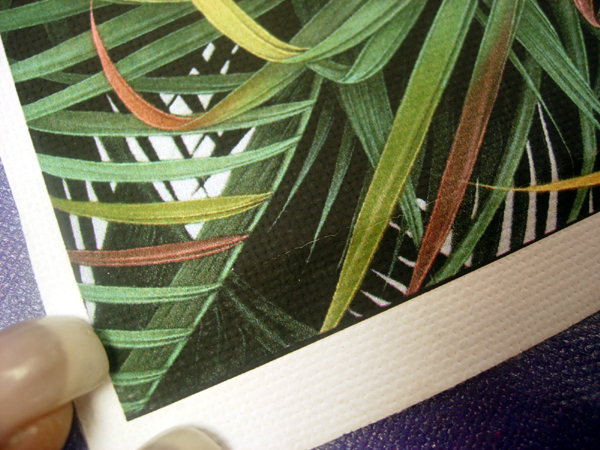 Photo 5
Flattened Crack: This is the same sample as in photo 4, but has been folded flat to hide the exposed white coating beneath the cracked inks.
Some printed canvases may not be wide format inkjet, but are considered digital offset as with the Wild Apple Graphic images which tolerate stretching without flaking (photo 6). Although over working of a corner during stretching can cause surface fractures that are also not acceptable unless placed into a designated canvas depth frame (photo 7).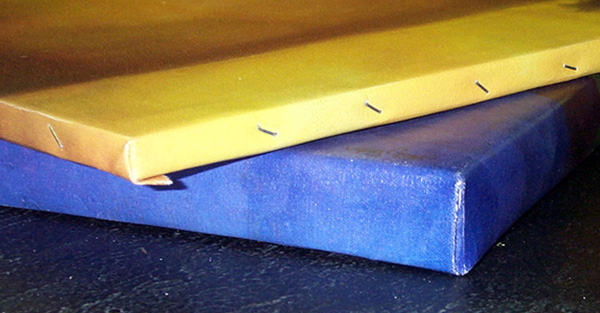 Photo 6
Stretched Canvases: Left sample was stretched for a frame, right sample for float frame or as frameless gallery wrap. Though the inks do not flake the surface cracked inks show on the blue wrapped corner.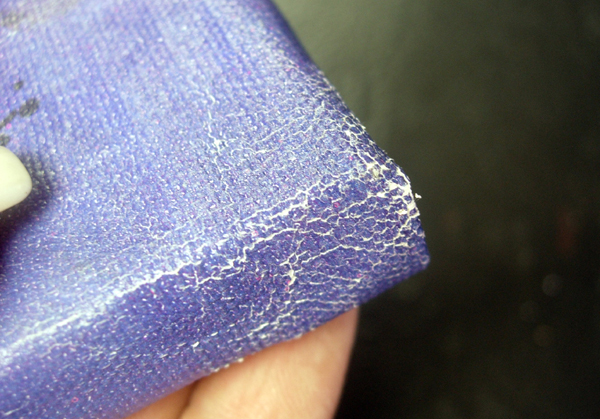 Photo 7
Over worked Corner: The gallery wrap in photo 6 is only surface cracked, this corner has been drastically over worked exposing a great deal of underlying canvas.
Sagging After Stretching
Sagging canvases are the next big issue with transfers and digital canvases. As seen in the photo 5, many canvases easily tolerate stretching without sagging issues, but this sample was stretched in the dry high desert of California and not in southwest humidity (photo 8). So it remains to be seen if over time and variations in humidity if it will be effected.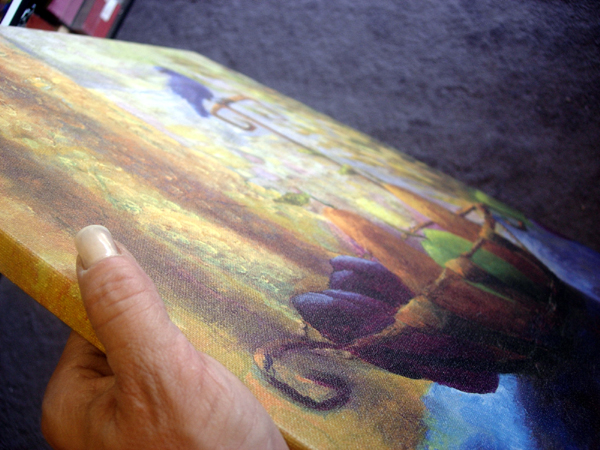 Photo 8
Stretched Canvas: This newly stretched digital canvas remains taut after 48 hours, but has not be placed in a humid environment yet. All is well with it.
In the case of a vinyl coated canvas transfer the surface laminate more readily expands and contracts with temperature and humidity making it very difficult to keep a stretched transfer taut. Vinyls get soft and expand in heat and retract in cold, so a stretched transfer in an air conditioned room will sag once taken into the summer heat during transport home.
If stretching a digital canvas is the only choice, sagging must be considered and one suggestion is to place a 4 ply rag board or 3/16" foam center board support between the bars and the back of the canvas. This gives added support but will still not prevent the canvas from expansion puckering. So mounting a digital canvas to a solid substrate is the best solution.
A Study: Raw and Coated Canvases on P-S and HA Boards
In a recent study I compared most accessible name brand pressure-sensitive (P-S) and heat activated (HA) boards available in the framing market for their overall bond, T-peel, and shear strength when mounting both raw untreated, uncoated canvas; and a digitally printed canvas with a receptor coating (refer to Application Comparisons "PS and HA Mounting Chart" in the library).
P-S products tested included: Alcan Self Adhesive Fome-Cor LT; Bainbridge SA Foam and SAX; Crescent PerfectMount Foam and XX; Drytac PS Gator and Foam Board; Elmer's Bienfang Self Adhesive Foam; Gilman High Tack Foam; Hartman HarTac; Savage NuCor and Prestax ProCore; and P-S film adhesives applied to selected boards.
Heat activated boards included: Alcan HA Fome-Cor; Bainbridge Artcare Restore, SpeedMount and HAF; Bienfang Single Step and Step 150; Gilman Heat Activated Foam; Hartman HartMount; Savage NuCor HA Foam and Filmtax ProCore; pure film adhesives, and digital tissues applied to foam center boards of choice (photo 9).
Photo 9
P-S and HA Test Boards: Assorted commercial P-S boards (L) and HA board (R) were tested with both digitally printed canvas and raw uncoated canvas in 210M-X mechanical press and 4060 VacuSeal hot vacuum system.
P-S Results
The results were interesting. All boards illustrated a shear strength of 100%, some had immediate grip, some were repositionable, some only held well after the 2 month curing period. Since raw canvas is very porous which I expected to bond well to many boards, not so. The coated canvas has a more sealed surface and backing which I expected it to be more resistant to bonding, also not so. And the results were different for both.
Only three P-S boards bonded the raw canvas at all: Elmer's Quick Stick, Drytac Gator and Drytac Foam, all of which are high tack pressure sensitives. These were all tested using only manual methods, a brayer and weighting 12 hours for the initial review. All boards were checked again at two months for aged bonding. Coated canvases held aggressively to Bainbridge SA Foam, Elmer's Quick Stick and the two Drytac boards. All other P-S boards showed only 10%-50% bond, even after two months.
P-S film adhesives like Gudy 870 and 831; PerfectMount film and 3M PMA were also tested. These films did not fare well with the porous or the coated canvas materials, even after 2 months.
Heat Activated Board Results
Conversely, heat activated boards were only marginally successful for digital canvases, but failed for raw canvases. All tests were done on both 8x10" samples in a mechanical press and 24x36" samples in 4060 vacuum press at suggested manufacturer times and temperatures. A range of temperatures are covered with products mounting at F150 F200. Bainbridge HAF (Heat Activated Foam) was far and away the superior choice for digitals, and appears to be one of Bainbridge's best kept secrets. This product has been around for years but not well promoted. Beinfang Single Step and Step 150; and Alcan HA Foam were successful for digital, while only Step 150 and Alcan bonded the raw canvas.
When bonding with HA materials in a dry mount system one must remember that only piezo images (Epson and most wide format printers, not HP) may be mounted. Thermal inkjet images on swellable coated canvas will under press temperatures.
Dry Mount Tissues and Films
Once dry mounting is being considered as an option, whether a HA board or a roll adhesive/board combo is selected is up to the individual (photo 10). Pure HA film adhesives like Drytac Pure Film Adhesive and Beinfang Fusion 4000 have been top choices for HA adhesive for canvas for years because of the ability of the adhesive to self level into all the highs and lows of the canvas while bonding. New products like Drytac GicleeMount have been developed for use with high end fine art paper digitals and canvas mounting. Bienfang RagMount, a tissue carrier adhesive (unavailable for testing) has recently replaced their fine art film ClearMount for high end fine art digitals on paper.
Photo 10
Mounted Digitals: Cantlin canvas on 32x30 3/16" Artcare Foam with Drytac GicleeMount (L); Goggio canvas on Artcare Foam with Drytac TriMount tissue; Grand Image Abstract on 100% Cotton Rag Foam with GicleeMount (R); small 8x10" Palm on 100% Cotton Rag Foam and 4-ply AlphaRag (front left and right).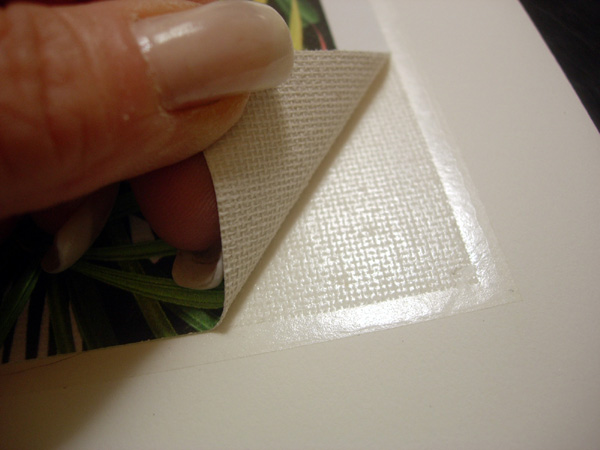 Photo 11
No Tear Strength: The mounted canvas may be peeled from this BufferMount on Foam sampler leaving a tactile embedded texture in the adhesive. It holds rather aggressively, but can be peeled without reheating. This is BufferMount tissue.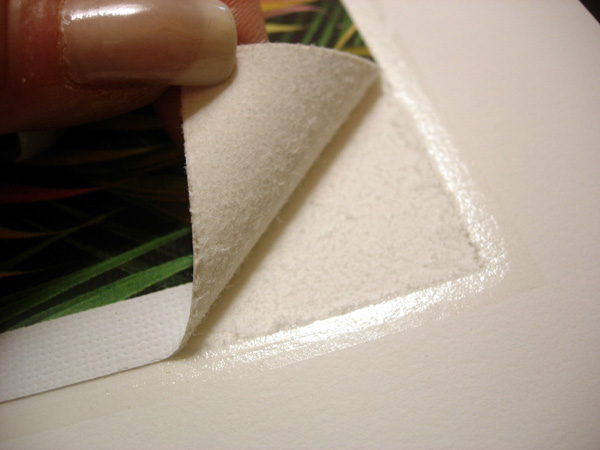 Photo 12
Film Tear Strength: The same digital sampler tears the surface paper of the substrate when testing for T-peel tear strength passing all ISO 18932 standards. This is Fusion 4000 film.
Test results of rolled adhesives allowed the canvas to be pulled from all general tissue adhesives leaving a canvas imprint in the adhesive remaining bonded to the substrate (photo 11), while all film adhesives held fast tearing the surface papers (photo 12). Tissues included BufferMount, Acid Free Tissue, TriMount, UniMount, and ColorMount. Films included Fusion 4000, Pure Film Adhesive, and GicleeMount. All were tested at 8x10" in a mechanical press and 32x40" in a 4060 VacuSeal. This is not to say that tissues do not hold, but rather they do not have tear strength. Tissues allow the digital canvas to be pulled, albeit very aggressively, from the mount board while the film adhesives tear apart the substrate layers. Numerous substrates were also tested including 4ply Alpharag, 100% Cotton Rag Foam and Artcare Archival Foam (photo 13).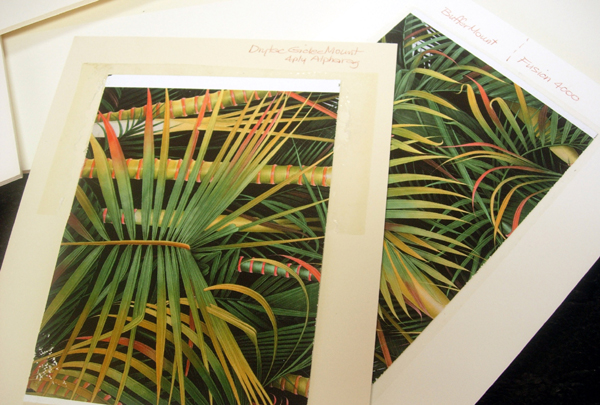 Photo 13
Assorted Substrates: The tissue and film adhesive rolls were tested on assorted substrates including 4-ply AlphaRag (L) and 3/16" 100% Cotton Rag Foam. Note the upper left corner of the right sample is the digital ink that flaked from the backing when fold tested. Dry mounting prevents that type of damage.
Other Mounting Options
The popularity of canvas transfers and digitally printed canvases rage on with art being offered to galleries and customers as traditionally stretched onto bars with diagonal staples; museum wrapped with the image ending at the wrapped edge fitting into a deep canvas moulding; or as a gallery wrap where the art continues around the stretched edge so it may be hung unframed, or in a float style frame. But with a digital canvas these may not be the only, nor the correct solution.
Framers please keep an open mind about the mounting of digital canvases, and look beyond the preservation limitations of Japanese hinges and starch paste. Pure film adhesives are also museum quality because of their inert and stable nature, though not reversible. Face mounting of digital photos is fast becoming a mounting option of choice for many contemporary photographers, but some people consider this permanent mounting method invasive, period. Though like Ansel Adams who mounted all of his photographs for long term preservation, these digital images are a reproduction similar to a photo, and face mounting or dry mounting may be the best form of long term preservation.
Museums are frequently dealing with contemporary art that has been mounted this way as perhaps the best way to help preserve it. Inert adhesives on preservation quality substrate isn't really a bad idea. Mounting of 21st century digital art needs to be done using a 21st century method, with 21st century acceptance. Digital canvases are not your grandmother's oil painting, and just perhaps...dry mounting it is the best way to present and preserve it.
Note:
A special thank you the Wild Apple Graphic and Grand Image for supplying the canvases for this study and to NielsenBainbridge for their continued support in research and education of adhesives and digitals.
END
Copyright © 2006 Chris A Paschke
For more articles on mounting basics look under the mounting section in Articles by Subject.
Additional information on all types of mounting is found in:
The Mounting and Laminating Handbook, Second Edition, 2002,
The Mounting And Laminating Handbook, Third Edition, 2008 and
Creative Mounting, Wrapping, And Laminating, 2000 will teach you everything you need to know about getting the most from your dry mount equipment and materials as an innovative frame designer.
All books are available from Designs Ink Publishing through this website.
Chris A Paschke, CPF GCF
Designs Ink
Designs Ink Publishing
785 Tucker Road, Suite G-183
Tehachapi, CA 93561
P 661-821-2188
chris@designsinkart.com