Paschke Online
Designs Ink Publishing Article Archive and Reference Library
Articles by Chris A. Paschke, CPF GCF
"Presses 2013"
August 2013
By the end of the 19th century a demand for an easy, reliable, repeatable, moisture reduced, chemically safe mounting method was needed and in 1901 the first dry mount tissue patent was issued to the Derepas Brothers in France. In an effort to keep moisture down, a thin carrier was developed with thermoplastic adhesive coated to either side which was activated by heat. The term dry mount was originally selected to distinguish between this new dry technique from traditional damp and wet techniques of mounting. Dry mounting is the application of artwork to a substrate using heat activated adhesive in a pressure controlled piece of equipment. It has been the most time effective, clean, predictable, permanent method of mounting aside from preservation techniques.
In my ongoing series of columns on hardware, tools and equipment this is the dry mount equipment month featuring mechanical dry mount presses, hot vacuum presses and cold vacuum frames. There are two basic types of heated dry mount presses: mechanical and hot vacuum. One is not better than the other, only different, and selection of the right press to suit your needs varies in every case.
The technical difference between mechanical and vacuum equipment involves the mounting elements of time, temperature, pressure, and moisture (TTPM). Mechanical presses control only the first two of these elements—time and temperature—while the hot vacuum presses control all four of them. There are pros and cons to both heat systems so one must select the press that will best suit their needs five years from now and not tomorrow. A vacuum frame is a cold pressure system requiring no heat. As a result it only assists the time and pressure elements of mounting but may be used with spray, wet and pressure-sensitive adhesives rather than heat activated ones.
Mechanical Presses
Bienfang/Expression Masterpiece mechanical presses are available in two sizes the 250 and 550. The 250 platen is 18-½x23" which will mount items a little less than twice its width or the equivalent of a 32x40" board in four corner bites (photo 1). It is an upgraded version from the 210M without digital control featuring built-in electronic temperature control with pre-set programs. It has an adjustable 150-300ºF temperature control and like previous versions operates on 120 volts.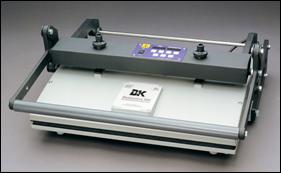 Photo 1
The 550 has a platen size of 26x34" which will comfortably mount up to 51" wide in two bites or a 40x60" board in four corner bites and can handle a substrate up to 1" thick. As with the 250 it has variable hear settings, pres-sets and thermostat controls. Mechanical presses—known as softbed presses by other countries—are available from most framing distributors, though D&K Group, Inc is the manufacturer.
As already mentioned time and temperature are the variables that change with individual projects and adhesives so the pressure and moisture elements must be manually controlled. To verify press pressure the lever arm should rest at 45° to the table surface with all the layers of the mounting resting inside. If it is too high the press will clamp too tightly, if too low there will not be adequate pressure to ensure a proper bond. When properly adjusted the actual pressure of a mechanical press averages 2-4 psi whereas a hot/cold combination vacuum press is approximately 12-14 psi (24-28"Hg). This lower poundage in no way inhibits the ability of a mechanical press to produce as good a mounting as a vacuum press. Mechanical presses are work horses that last a lifetime and need little attention other than routine maintenance.
The beauty of the mechanical press in this digital age is that it can mount any length substrate in a multiple of bites, with the only limitation being location of the press and width. Keep in mind the bites must overlap to insure all portions of the mount adhesive have been activated and remember the bite technique is limited to permanent adhesives and HA boards only so successive bites don't reactivate and loosen previous mounted sections.
Hot Vacuum Presses
There are a number of differences between vacuum presses and mechanical presses. A hot vacuum press applies uniform heat and pressure as the art is mounted, but is limited to mounting items which fit totally inside its frame disallowing multiple bite options. For that reason they are available as larger units to accommodate full sized 32x40", 40x60", and 48x96" boards in one single step. In opposition to the mandatory procedure of predrying as when with a mechanical press, the vacuum principle of drawing the air from within the press precludes this step when using a hot or cold vacuum press. The physical drawing of the vacuum pulls the moisture from the materials automatically, while the rubber diaphragm or bladder naturally conforms to the thickness of each individual substrate adjusting for pressure. Presses are available with solid aluminum platen or tempered glass top depending on manufacturer. They are programmable with adjustable pressure valves, thermostats for temperature control, and most have electronic timers. Older units may have manual analog dials.
The elements of time and temperature must still be monitored by the press operator based upon selected adhesives, substrate, and overall size of the mounting project, but the elements of pressure and moisture will be controlled automatically by the heat vacuum system. Dry mounting denotes the use of heat when discussing the subjects of mounting and laminating, because dry mount tissues, films, and laminates require heat for bonding. Spray adhesives and wet glues may be used in hot vacuum presses if used the heating element turned off as a cold vacuum frame. This is a nice option when pressure is required without heat for heat-sensitive digitals.
Dry mount packages should include release material on top and beneath all mounting materials to protect the platen and the diaphragm from adhesive residue. Stack materials bottom to top: release paper (not a release board), substrate of choice, adhesive, art print, and release material—clear or opaque paper as desired. The Drytac mount package shown in photo 2 illustrates their suggested stacking of sponge, board, tissue adhesive, print, and clear release paper. Check with manufacturer for suggested practice suitable for their machine.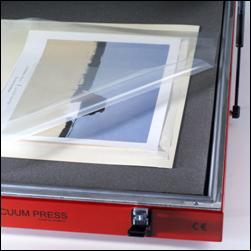 Photo 2
Replacement of release papers every fifty working hours, sponge overlay foams (used for laminating), and routine checking and cleaning of platens is necessary for both mechanical or vacuum systems. Other routine maintenance for hot vacuums include running the press through one full 4 minute cycle—after fully heated—prior to mounting any project each day. This draws accumulated moisture out of the press and fully dries interior materials. Also run the press for a full 4 minute cycle with the fully lid open at the end of each work day to blow accumulated moisture from the hoses and tubes. Check filters and oil pumps as required in manufacturer manuals.
Vacuum Companies
D&K Expression/Bienfang/Hunt/VacuSeal, Drytac/Hot Press, Print Mount, and Corona are the brands known in the industry. Machines vary by depth of drop from relaxed rubber diaphragm to platen with Corona the deepest and Hot Press shallowest. Depth of drop is what determines the amount of time it will take to draw all the air from within the unit once turned on. A typical 40x60" Drytac Hot Press HGP360 draws in 30 seconds as opposed to Print Mount HS/64-BG which draws in 45 seconds or D&K Expression which draws in 40.
The D&K Expression Vacuum Press offers complete digital display, touch pad controls, comes pre-programmed with six factory installed setting for temperature and dwell time, has end of cycle signal but maintains pressure until turned off by operator, solid surface for extra work space, maintenance free pump and includes D&K Technical Support after purchase, though rarely needed. Presses are available as 3648H 36x48", 4468H 44x68" (photo 3) and 5298H 58x96" models.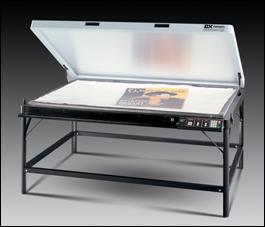 Photo 3
Hot Press Heated Glass-Top Vacuum Press HGP models feature an automatic electronic timer with a manual override switch and vacuum pressure adjustment capabilities. Upon completion of the cycle, vacuum pressure is automatically released and the timer resets itself . The platen is made up of two sheets of reinforced tempered glass, the inner surface of the lower sheet has an invisible conductive film embedded in it which electric current passes through as the heating system, which is controlled by a digital thermostat. The transparent glass is smooth and scratch resistant and though it allows the operator to view materials during processing it is rare one can stop the process fast enough to prevent a mounting error once vacuum has drawn. Interior mounting dimensions of HGP260 are 35"x47" (photo 4), HGP360 are 42-½"x66-½" and HGP560 are 50"x98".
Photo 4
The Print Mount HS/Series Black Glass combination heat/vacuum press is available in three sizes HS/100-BG 100x52", HS/64-BG 64x44" and HS/44-BG 44x34" (photo 5). Their original aluminum platen has been replaced with their new black glass heated platen, a strong tempered glass which is bow and mar resistant, easy to clean, and provides uniform heat over the entire platen. Thermal loss and temperature variation is minimized by multi-zoned, embedded heating elements. The black glass units draw less than 5% amperage in standby, where see-through glass heat presses draw up to 50% amperage in standby. They feature digital readout, programmable temperature controller and scientific vacuum gauge to allow for operator monitoring of both heat and vacuum systems, automatic shut-off timer, easy open gas springs and heavy-duty vacuum pump.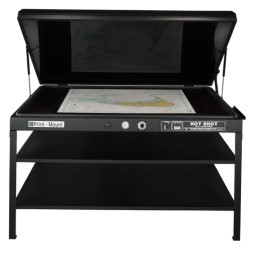 Photo 5
Cold Vacuum Frame
The Print Mount PM/Series Cold Vacuum Press (photo 6) has been around since 1977 and appears to be the only new cold vacuum unit available. It is a high productivity, high performance cold vacuum press with all-steel frame construction, automatic shut-off timer and vacuum gauge, easy-open gas springs, and heavy duty vacuum. It has been designed for mounting wet adhesives or sprays and is available in three sizes PM/100 is 100x52", PM/64 is 64x44" and PM/44 is 44x34".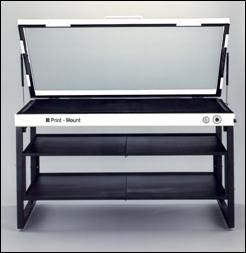 Photo 6
Cold vacuum frames were the predecessor to the hot vacuum press and many framers have fired up their old unit in light of today's heat sensitive digitals. Some of the hot vacuum units may be used without heat allowing them to be used hot or cold.
Final Mount
The question "Will dry mount presses become obsolete?" has been asked of me many times over the years. I have no way of knowing, but not in my shop at least. Mechanical dry mount presses may be used for a great many things besides simple dry mounting, just ask anyone who has attended my Mastering Mounting: Creative Mounting and Laminating lecture at WCAF Expo. There is no doubt that framers who wish to compete in the digital age must invest in equipment that allows them to handle the larger wide format imagery. So the cold roller laminator may be the next big investment many framers will be investigating. Perhaps it will be what has replaced the cold vacuum frame, but once again it will never replace my dry mount presses.
END
Copyright © 2013 Chris A Paschke
Resources—Items
http://forframersonly.com/products.asp?ID=34&C=3—Masterpiece 250 & 550 Mechanical Presses
http://forframersonly.com/products.asp?ID=15&C=3—D&K Expression Vacuum Presses
http://drytac.com—Hot PressGlass Top Vacuum Presses
http://printmount.com—HS/Series Black Top Vacuum, PM/Series Cold Vacuum
For more articles on mounting basics look under the mounting section in Articles by Subject.
Additional information on all types of mounting is found in:
The Mounting and Laminating Handbook, Second Edition, 2002,
The Mounting And Laminating Handbook, Third Edition, 2008 and
Creative Mounting, Wrapping, And Laminating, 2000 will teach you everything you need to know about getting the most from your dry mount equipment and materials as an innovative frame designer.
All books are available from Designs Ink Publishing through this website.
Chris A Paschke, CPF GCF
Designs Ink
Designs Ink Publishing
785 Tucker Road, Suite G-183
Tehachapi, CA 93561
P 661-821-2188
chris@designsinkart.com