Paschke Online
Designs Ink Publishing Article Archive and Reference Library
Articles by Chris A. Paschke, CPF GCF
"Understanding Wire Steel Hangers & Spring Clips"
February 2013
Selecting the correct wire to support your framed is every bit as important as using the right hardware. Picture frame wire comes in many different types and weights (photo 1). There is multi-strand braided galvanized steel, twisted stainless steel, stainless plastic coated, copper plastic coated, and nylon coated sleeve systems. Galvanized is the most used, but the least effective, of all wire. Plastic coated stainless wire will not mar walls, back of picture frames, hurt hands during installation, is corrosion resistant and will not rust or discolor. Coated copper is softer and easier to work with but does not have the strength of stainless steel.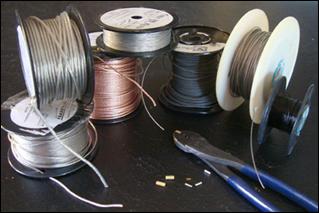 Photo 1
Coated stainless #6 and #8; coated copper #9; stainless #3; braided; and two weights Sevalon sleeve system with crimper tool.
Weights
As braided interwoven galvanized steel wire diameter increases the strands remain constant in size but additional strands are added to the braid. A #2 braided wire has 12 strands while a #8 braided has 36 strands. In contrast, all stainless steel wire contains seven strands that have been tension twisted like a cable, and as the wire gets larger the strands increase in diameter. This makes twisted wires comparatively stronger than braided, but also less flexible.
When selecting the correct weight wire for your painting it will vary depending upon the type of wire selected. The break strength of a galvanized wire should be four times the weight of the frame, while the break strength of a coated stainless is three times the frame. A 10 pound painting requires a 30 pound maximum weight stainless wire, but a 40 pound galvanized braided wire.
A #3 braided wire has a maximum capacity of 16 pounds while a #3 stainless steel picture wire has a maximum strength of 20 pounds. Though a #3 braided and #3 stainless have the same break point at 68# the cabled stainless wire can handle a heavier painting. The larger/heavier the wire the more the variance between braided and cabled structure. A #8 braided is rated at 36 pounds with a 145# break point, while #8 stainless is 60 pounds with 170# break point. Note the softer coated copper has a break strength of 170 pounds, but a maximum frame weight of only 40 pounds.
Sleeve Systems
Sleeve systems offer a very high end appearance and are easy to install, but run more than coated wire. Sevalon, Eagle Klaw and Surflon are nylon coated crimper systems for wiring frames. The coated stainless is available in black, bronze and clear coating with matching crimp sleeves (photo 2). A crimping tool is necessary to crush the metal sleeve that holds clamps the wire in place. The wire should be fed through the sleeve, around the hanger of choice then slid back through the sleeve. To assure it will not slip the wire may be turned back and passed through the sleeve a third time. Make certain the sleeve is well crimped.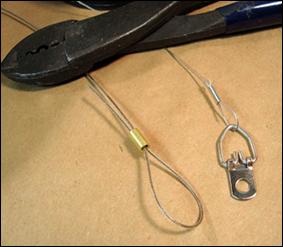 Photo 2
Crimping tool/wire cutter top. Wire is fed through sleeve three times (R) only twice (L).
When choosing your wire bay close attention to the types and weights of frames you will be hanging. It is most likely an artist will require a number of different weight wires to accommodate all their hanging needs. Most likely a coated stainless steel wire will be your best choice, and probably a #3 and #5 will handle most all your demands. Keep in mind it is better to select a wire too heavy than too light.
Strap Hangers
Heavy duty D-ring hangers are also called strap hangers, mirror hangers, or ring hangers (photo 3). They can be used with or without picture wire and are intended for hanging mirrors, heavy wood frames, gallery wraps or cradled boxes. Strap hangers are constructed of heavier steel and accommodate #6x½" screws for small 2-hole strap hangers and medium 4-hole strap hangers, and #8x⅝" with large 3-hole heavy metal strap hangers. If hung without wire they are aligned vertically at the upper corners on the back of the frame and suspended directly on substantial picture hooks or screws anchored into the wall.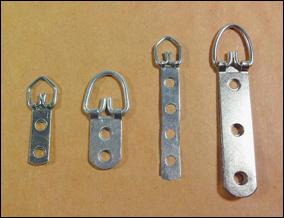 Photo 3
Small narrow base 2"x⅝", small wide base 2-¼"x1", medium narrow base 3-¼"x⅝" and large wide base 3-¾"x1" heavy strap hangers.
Installation
Lay frame face down. Attach strap one-quarter to one-third down from the top aligned at the desired angle of picture wire when hung on two wall hooks and select hangers and screws large/strong enough to accommodate the weight of the frame. Pre-drilling all screw holes helps avoid splitting the wood. It has been advised online that use of parallel strap hangers with picture wire twisted together will reinforce and increase allowable frame weight (photo 4). Though there is no doubt strength will be increased with two hangers, the stresses placed on screws and side legs of the frame are also increased, particularly with heavy installations such as large mirrors. It would be a better solution to use heavy-duty strap hangers placed vertically—as mentioned above—used without wire instead. Another option is the use of steel hangers or plates.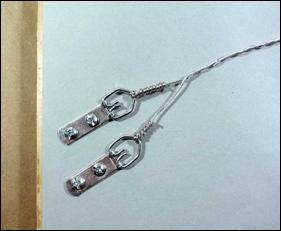 Photo 4
Parallel strap hangers with twisted wire.
Steel Hangers
Super Steel Hangers are available as 2-hole and 4-hole styles having the screw holes located both above and below the ring for attaching the wire (photo 5). The 4-Hole Super Steel Hanger is 3-½" long, ¼" wide for heavy art and supports up to 100 lbs. The shorter 2-Hole Super Steel Hanger is 2" long, ¼" wide for art up to 50 lbs. They are designed to be mounted vertically 1/4 to ⅓ down from the top edge of the frame, either centered on a narrow moulding or about ½" from the inner edge of a wider moulding (photo 6). They may be used with #4 or #6 screws in varying lengths appropriate for the moulding. The longer 4-hole version has staggered holes to dissipate the stress of the wood, reduces hardwood splitting, plus multiple screws increases screw security with MDF or soft wood.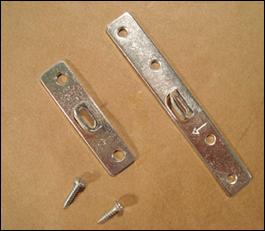 Photo 5
Super Steel Hangers 2-hole (L) and staggered 4-hole.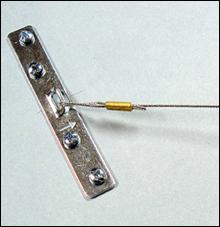 Photo 6
The 4-hole version has slightly staggered holes to dissipate the stress of the wood.
The Super Steel Hanger is a good hanger choice if you want the extra holding power of a multiple screw hanger without the bulk and size of a strap or D-ring hanger. They are stronger than D-rings because of the multiple and staggered screws and put less stress on narrow mouldings than long strap hangers which cannot be angled on narrow frames. Super Steel Hangers are available from AMS, Picture Frame Company, Artright, United Mfrs. Supplies and M&M Distributers.
Flanger Hangers
A good example of bad choices is when screweyes are selected for a very narrow moulding, making it worse when the frame is heavy enough to warrant the above twisted wire installation (photo 7). When a frame is too narrow for a D-ring, strap or steel hanger, another option is the Flanger. It has a 90 degree bend along its full length to grip the inside edge of a narrow frame moulding reducing the risk of wood splitting by eliminating twisting or screw tear-out (photo 8). It minimizes bowing, gives frame more strength and stability, and its flat profile holds closer to the wall. Wire attachment is slightly angled so hardware is sold as mirror-image pairs marked L for R. Installation is easy. After applying the dust cover make a slit through it the length of Flanger hardware at proper position either side, pre-drill holes and screw into place. They are ideal for narrow frame diplomas, photos and deep, heavier shadowbox frames. The wider versions offer the same non twist security, but strap hangers or steel plates would be just as effective.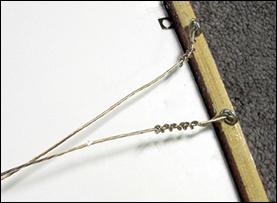 Photo 7
Two screweyes and incorrectly twisted wire illustrate a weak hanging system that could easily fail.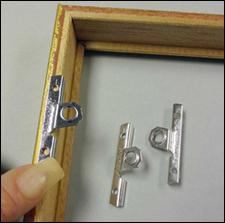 Photo 8
Flanger #932 is for narrow 1/4" to 1/2" mouldings. Note the full length bent flange for support.
Flanger Narrow Hanger fits ¼" to ½" mouldings and supports up to 50 lbs. Flanger Medium Hanger fits ½" to 1" mouldings and supports up to 70 lbs, Flanger Wide Hanger fits mouldings 1-4" and will support 100 lbs. Available from M&M Distributors, United Manufacturers and Picture Hang Solutions.
Spring Clips
A little diversion from hanging wire and hardware are spring clips. A spring clip in framing is a flat U-shaped metal band—structured like a recurve bow—made of spring steel used to retain artwork in sectional metal frames. They are a quick fix for snugly holding art packages and are frequently used in framing with metal frames that cannot use staples or points. Though loved by many and commonly used by artists and economy framers, there is a problem that may occur from their use making them an undesirable choice when framing collectibles or original art on paper (photo 9). The very pressure that holds backing boards and glass against the front lip of the frame is same thing that creates unfavorable pressure points along the perimeters of the art (photo 10).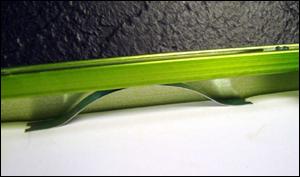 Photo 9
Spring clips are recurve flat metal strips used to press art package to front of frame.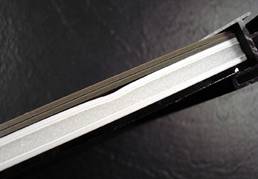 Photo 10
Pressure indention created by spring clip could be avoided with filler boards.
The strength and constant pressure of the clip can indent board at those pressure points as seen in photo. Foam center boards generally absorb that compression damage, but mat boards, rag backing boards, and coroplast do not. In humid environments the areas between the clips—that have no pressure—can absorb moisture and warp as the paper products expand creating a wavy window mat. This is damage that cannot be reversed because once paper fibers have swollen by moisture they never retract to their original size even once again dry. A warped mat will need to be replaced. Matted art is not impacted by swelling or pressure points but rather than risk an unhappy customer it might be wise to replace clips with additional filler boards. Cut same size filler boards from scuffed or surface damaged, unusable mat blanks or foam center board and fill the fit space as seen in photo, two faded 4-ply mat blanks easily slipped into the metal frame channel. This supplies adequate filler support and eliminates all pressure points.
Spring clips are perfect for the fitting of commercial stretched canvases, wood panels or cradles into metal frames because the support of the wood substrate or bars will not warp with humidity causing package damage (photo 11). Just make certain the front edges of an original art panel or canvas are protected from contact to the metal as with any canvas painting (see PFM Books, Framing Works of Art on Canvas by Paul MacFarland).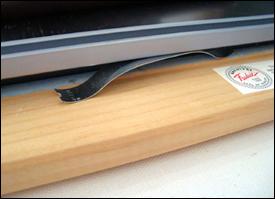 Photo 11
Spring clip hold stretched canvas.
END
Copyright © 2013 Chris A Paschke
Resources—Items
http://artmaterialsservice.com—Straps, Super Steel Hangers
http://govart.com—Flanger Narrow, D-rings, Strap Hangers
http://picturehangsolutions.com—see govart.com
http://mmdistributors.com —Flanger Narrow, Medium and Wide, assorted other hangers
http://www.picturehardware.com—Super Steel Hanger, Strap Hangers. D-rings
http://www.artright.com—Strap Hangers, Super Steel Hangers
http://www.unitedmfrs.com—Flanger Narrow, Medium and Large, Straps, Super Steel Hangers
http://framewareinc.com—Clips, Steel Wire Hangers, Strap Hangers
For more articles on mounting basics look under the mounting section in Articles by Subject.
Additional information on all types of mounting is found in:
The Mounting and Laminating Handbook, Second Edition, 2002,
The Mounting And Laminating Handbook, Third Edition, 2008 and
Creative Mounting, Wrapping, And Laminating, 2000 will teach you everything you need to know about getting the most from your dry mount equipment and materials as an innovative frame designer.
All books are available from Designs Ink Publishing through this website.
Chris A Paschke, CPF GCF
Designs Ink
Designs Ink Publishing
785 Tucker Road, Suite G-183
Tehachapi, CA 93561
P 661-821-2188
chris@designsinkart.com