Paschke Online
Designs Ink Publishing Article Archive and Reference Library
Articles by Chris A. Paschke, CPF GCF
Art + Framing Today
"Marketing My Art"
August 2019
In todays art market the artist is expected to actively participate in the promotion and sales to a greater extent than in years past. In decades pat when signed with a gallery, contracts designated the artist price would be doubled and for that half of the retail sale the gallery agreed to pay the promotion, reception, and advertising costs in addition to gallery display space to earn their markup.
Successful artists working with a gallery generally come with an established collector list and regardless of whether a gallery likes the artist's work or not they will assess if their current clients as well as the artist's collectors list might sell that artist's new series. Their art is expected to routinely sell, they should be prepared to present the gallery with a unified show every year or two, and the artist needs to actively promote their art and the gallery online and through social media.
I fact, with the onset of the internet, online art and wall decor shopping, and self-promotional sites artists now have many opportunities to get their name out there, become more visible and make sales. Whether working with a gallery or as an independent artist the internet is a marketing tool that is easily used as a live portfolio as well as simple promotion for your gallery affiliation.
Paschke Art
I have been a published artist of wall decor with Wild Apple Graphics, Woodstock, VT for over twenty years; Grand Image, Seattle, WA (photo 1) for seventeen years; and Studio EL—formerly Editions Limited—Emeryville, CA for six years, and I never really went out looking for affiliations. Since I have been well-known in the art and framing industry USA as educator, lecturer, columnist and trade show demonstrator since 1986 my art affiliations boiled down to "who you know." In two of the three cases the publisher came to me because I could offer them an original style of trending Asian and calligraphic art they didn't have represented in their current repertoire of artists. The third publisher and I worked for a few years to develop a style unique to them and the rest is history.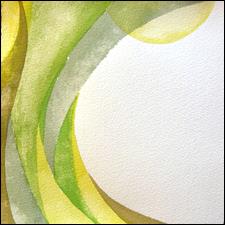 Photo 1
Geometric Yellow Green II — was originally created for Grand Image mid 2000s and is still a good seller today. Available through many online companies on a wide assortment of substrates in all sizes.
Publisher Affiliations
Working with publishers rather than galleries has been perfect for me. I prefer to work small which doesn't bode well for galleries in California and my mediums are watercolor, gouache, ink, gold leaf, encaustic and mixed media which would show fine in galleries if my originals were larger than 10" x 10". Also working with publishers who rely on volume sales and trend demands is very different than working with a gallery. A successful published artist should be prepared to create full series of new art based on what the publisher's client base is currently requesting. And with current computer technology published art may be edited, recolored, cropped, replicated, flipped, resized, and printed to a wide variety of substrates to meet any client's needs.
The bottom line for me is volume. I'm currently creating 150-200 pieces per year—sometimes more—and always in series just to keep up with industry demand and to maintain my relevancy. I am known as being versatile, prompt, and prolific, all good qualities in this era. Since art could end up as wall decor or licensed as new products I must be willing to create trendy art then let it go, a little like being a graphic designer. Your publishers are your clients even though they are marketing your art to someone else. When I am asked by one of my publishers, "May we recolor this yellow piece to cerulean blue for a client?" my response is always, "Most certainly, as long as you make us a lot of money with it."
Licensing
The financial crash of 2007 greatly impacted the art industry and me in turn. Licensing was different before that as presentations were made quarterly to potential licensees. As the economy recovered we realized licensing and the art industry would be altered forever. Art on the internet was a phoenix rising out of the ash and after the crash wide format printing and print-on-demand (POD) became state-of-the-art. Rather than publishers printing 3000 poster images then striving to sell them all, they began scanning originals at high resolution and printing as needed, whatever size was desired, and on a variety of substrates from watercolor paper to canvas and bamboo to acrylic. It has been fabulous for the consumer and production art companies.
Today artwork needs to be turned around at a much quicker rate and images are shared via emails with JPGs attached weekly as necessary, rather than quarterly. Many times I have been emailed a request on Friday to create something for presentation early the following week.
Styles Change
Since I have many painting styles, as trends change many of my older images that didn't make the cut years ago have come into favor. I did well with posters and licensing during the early 2000s when my Asian influenced art was popular but when that trend faded it took a few years for me to develop my washy watercolors of today and fortunately my mixed media, sumi-e, ink and watercolors are doing well in today's home decor markets.
If current wall decor and decorating trends do not currently align with your painting style, be patient, trends may come around in the next decade. The first ten years I was with Wild Apple I was considered their Asian artist—I'm not Asian—but was known for my art style of writing calligraphic Chinese characters and sumi-e paintings. Sun Mum I is a sumi-e floral painted on mulberry paper illustrating my early Asian styling which has re-emerged this year. (photo 2) Artists need to be versatile, patient, and prolific in this market.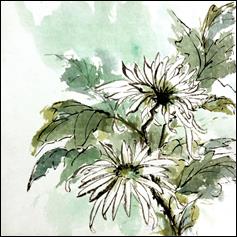 Photo 2
The first ten years I was with Wild Apple I was considered their Asian artist. This sumi-e painted floral Snow Mum I on mulberry paper illustrates my early Asian styling which has re-emerged this year.
New Opportunities
This past year I was invited to work as art designer and artist on a new local hospital. They wanted to feature local artists and with my publisher affiliations I was able to look beyond small framed originals and printed canvases to wall coverings. We have currently installed seven wall coverings with the largest being 21' x 9.5' Imagine II, published by Studio EL, being an 8" x 22" original of sumi-e brushstrokes loosely emulating a landscape on mulberry paper. (photo 3)

Photo 3: Original Art
Imagine II, published by Studio EL, is an 8" x 22" original of sumi-e brushstrokes loosely emulating a landscape on mulberry paper which was converted into a 21' x 9.5' wall covering.
Imagine II was cropped to focus on the upper right quadrant and the walnut brown ink was recolored to plum to harmonize with the accent wall in the main lobby. The finished wall covering is 21 feet x 9.5 feet and is broken into three alcoves displayed on the wall opposite the hospital front doors. (photo 4)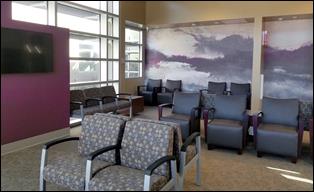 Photo 4: Installed
Press Releases
Another great resource is entering juried competitions and juried museum artist shows. In the past two years alone I have been juried into two shows and a publication. Conversations in Calligraphies "In Search of Hidden Meaning" accepted Blue Fate into their online exhibition; and Morning Sun into their live gallery exhibition "Crossing Boundaries", Oakland Asian Cultural Center, Oakland CA, USA.
My third juried acceptance was both Morning Sun and Winter Moon into Letter Arts Review 2019. The cropped Chinese character represents the passing of the day, collaged over large sumi-e single strokes on 140# CP watercolor paper representing the intersection of underlying life events. Gold leaf squares are spots of lingering sunshine remaining through the day. (photo 5)
The cropped Chinese character Morning Sun represents the passing of the day, collaged over large sumi-e single strokes on 140# CP watercolor paper representing the intersection of underlying life events. Gold leaf squares are spots of lingering sunshine remaining through the day.
Getting accepted into juried events allows for self-promotion through writing press releases to local papers, societies and trade magazines. I sent out PR concerning the above events, posted on my website bio page, and on social media as soon as I was notified of them. These give you credibility and keep your name out there. I will be posting PR on my above hospital art soon too.
Website
For any artist a website is as mandatory as business cards. I have had my website since 1995 and just this January my son and I launched a newly coded independent version which is updated and should last at least another 25 years. It currently has over 13,000 pages and that is without the thousands of pages of new art I need to get uploaded. I add all my publisher submissions to the site, regardless of picked up or not, and we all (publishers and me) use it as a working online portfolio to showcase imagery and styles to potential clients who might be interested in me.
Because of my publisher relationships I have opted not to sell online with an active shopping cart though the new site has security certification. I do sell originals off my site but interested parties are encouraged to email me directly for information and details about purchasing, and my buyers like having real artist contact during the process. Another advantage to them emailing me is at times they want larger pieces and I can help direct them to my affiliated publisher or print-on-demand source to create their desired size and substrate.
I routinely search myself for images and SEO activity and link to as many active sellers of my art as possible. I currently have open edition reproductions available from 30-35 assorted internet art companies and home interior resources from Art.com to ZGallery.com. Linked connections are highly favored for search engine optimization and online visibility. Search engines want users to find the most relevant websites for any given search so linking from your website to other sales sources for your art adds value for searchers.
Online Promotion
One of my favorite USA sites for online promotion is Fine Art America. There is a minimal annual fee for unlimited upload and it has turned out to be my best source for internet advertising. They offer prints, canvas, and many assorted licensed items from towels to phone covers for which I receive a small royalty payment when ordered. Though I don't sell many items off the site the online exposure created when my name gets typed into a search engine is the most efficient marketing tool ever. It's all about being seen and I'm seen because of the internet. Funny, the very tool that changed my successful licensing life before the crash has emerged as my biggest supporter of sales.
For local support online and mobile searching for your gallery, studio or storefront always claim and setup active online directories including Yelp, Yellow Pages, Google, et al. —These help SEOs also tie you to other searches.
Social Media
As a baby boomer I've been slow to embrace social media platforms, though I do have Facebook and LinkedIn pages.
Doing your own marketing can be a full time job and runs the risk of making you a manager, which pulls us away from the creation aspect of art production. It's a Catch-22, market the art you create or create the art you need to market. I simply do not have the time to do it all, and fortunately what I have been doing works well for me. There are a great many resources and opportunities for self-promotion, so the key is to be aware, test the water and find what works best for you.
END
Copyright © 2019 Chris A Paschke
Online Resources
https://fineartamerica.com/profiles/1-chris-paschke.html
http://www.galleryngifts.com/about-us
https://www.facebook.com/ChrisPaschkeFineArt/
https://www.facebook.com/PaschkeOnFraming/
https://www.linkedin.com/in/chrispaschke/
https://www.linkedin.com/company/designs-ink
For more articles on mounting basics look under the mounting section in Articles by Subject.
Additional information on all types of mounting is found in:
The Mounting and Laminating Handbook, Second Edition, 2002,
The Mounting And Laminating Handbook, Third Edition, 2008 and
Creative Mounting, Wrapping, And Laminating, 2000 will teach you everything you need to know about getting the most from your dry mount equipment and materials as an innovative frame designer.
All books are available from Designs Ink Publishing through this website.
Chris A Paschke, CPF GCF
Designs Ink
Designs Ink Publishing
785 Tucker Road, Suite G-183
Tehachapi, CA 93561
P 661-821-2188
chris@designsinkart.com