Paschke Online
Designs Ink Publishing Article Archive and Reference Library
Articles by Chris A. Paschke, CPF GCF
Mounting Matters, The LA Framer GLAC Newsletter
"Defending Artist Copyright"
November 2011
There is a fine line between inspiration and copyright theft. Inspiration stimulates to create something anew, while replicating elements from an existing work is not allowed. It is illegal to use elements of one work to incorporate them into a second even when the second does not appear to be similar overall. If the new creation has the sense of the original there has been a copyright infringement. Art my inspire but may never be used in the new creation—this exemplifies artist copyright. Changing 10%, 20%, even 30%...of an image is still considered copying. If the new art or framing design were put next to the original painting or photo it cannot appear to be based on the original. Though 10% of an original may be utilized legally it cannot be a distinctive element in the original.
A painting made from a photograph is known as a derivative work: art that is based on the work of another artist or school of art, or uses all or part of another artist's work in it, is known as derivative art. A painting based on a photograph is also a derivative work because it is adapting and transforming it. In order to use any part of an established image—painting or photo—permission must be granted by the creator of the image who holds the copyright and unless permission has been granted for its use, creating a painting based on a photo would infringe the photographer's copyright. US copyright law states: "Only the owner of copyright in a work has the right to prepare, or to authorize someone else to create, a new version of that work."
Though artists are not explicitly covered by fair use. In terms of sections 106 and 106A of US copyright law, "the fair use of a copyrighted work ... for purposes such as criticism, comment, news reporting, teaching, ... scholarship, or research, is not an infringement of copyright".
Design Infringement
In the September issue of PFM Stuart Altschuler wrote the article "Selling Up Strategies" which featured the "Winter" image from my Four Seasons series available from Wild Apple Graphics (photo 1). I was flattered he selected my artwork and pleased he was promoting advanced design within the industry. As a framer who specializes in creative framing applications and selling up, I totally agree with showcasing assorted design samples from a simple single mat and metal frame to a floated image, triple matted with accented strip and 4" wide bamboo moulding. Selling up sells itself.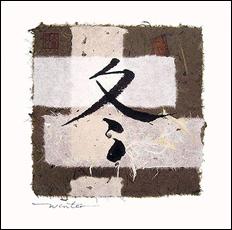 Photo 1
Asian Seasons-Winter by Chris A Paschke Open Edition Reproduction, 14"x14" Copyright © 1998 Wild Apple Graphics
As an educator and friend I applauded Stuart's design ideas, but there is a problem with the featured framing. I have lectured, critiqued, and written before about the importance of not infringing upon a piece of fine art. A framer's job is to enhance and protect, not re-create.I have also stated that decorative art is just that, inexpensive open edition poster art that is much less restricted to design limitations.I have cut and accented poster images for the sake of decorative art and I would be a hypocrite to say Stuart should not have duplicated or pulled a portion of my image into the design.After all they are only posters.But when creating an innovative design that literally duplicates part of the poster image on outer framing boundaries—mats, glass, frame—the techniques of embossing, painting, carving, glass etching, et al need to have limits set. If the artist wished the art to continue beyond the edge of the paper—they would have created the original that way.
The "fair use" copyright guideline only allows 10% use from the original—unless it is an identifiable element from that original. Even when it is just decorative art there is an issue of copyright and more importantly accuracy.As an artist copyright of my original art has been violated.I created the image as a visually textured rice paper collage layered by the Chinese character for winter.There are hundreds of versions of Chinese typography for winter which would have been legally permitted for use, but in order to have freedom to recreate this character onto the glass—since this is a poster—the publisher should have been contacted for permission to replicate.— Another huge issue is etching duplication itself. There are many versions of Asian script from structured clerical script to freely written grass script, all being different styles of writing the same character.— All of the 4000 basic characters have specific elements that create the word meaning.Dots, short down strokes, horizontal bones...are all intricate parts that make up the word. When dots or small strokes are eliminated it drastically changes the word, or make it illegible.
The Chinese character glass etching in Stuart's sample has been changed (photo 2). By eliminating the two lower dots the word no longer says 'winter.' If he had called for permission to reproduce this in his design it might have been suggested to change the character script to avoid copyright issues and/or stressed that the character must be duplicated exactly.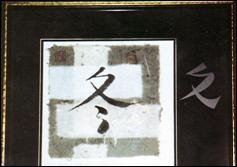 Photo 2
Glass etching replica of the character in the original. Note the missing two dots below.
Only the artist or publisher can give you permission to replicate part of an image in a framing design. Since this is a print it needed to come from Wild Apple, if an original it would have come from me.Remember that Disney did not give consent for use of Mickey or Minnie Mouse in any way to enhance the PPFA competition piece in 1998 though a number of framers elected to do so without permission. These entries were eliminated during judging for copyright infringement.It was a copyright issue then, and it still is now.
END
Copyright © 2011 Chris A Paschke
Original editorial written for PFM, December 1999
Edited and Rewritten 2011
Online Resources
For more articles on mounting basics look under the mounting section in Articles by Subject.
Additional information on all types of mounting is found in:
The Mounting and Laminating Handbook, Second Edition, 2002,
The Mounting And Laminating Handbook, Third Edition, 2008 and
Creative Mounting, Wrapping, And Laminating, 2000 will teach you everything you need to know about getting the most from your dry mount equipment and materials as an innovative frame designer.
All books are available from Designs Ink Publishing through this website.
Chris A Paschke, CPF GCF
Designs Ink
Designs Ink Publishing
785 Tucker Road, Suite G-183
Tehachapi, CA 93561
P 661-821-2188
chris@designsinkart.com