Paschke Online
Designs Ink Publishing Article Archive and Reference Library
Articles by Chris A. Paschke, CPF GCF
Mounting Matters, The LA Framer GLAC Newsletter
"Dust Covers: Kraft to Tyvek"
October 2012
At the recent GLAC framing competition I notices many different materials from mat board to acid free Black—from CMI-used as dust covers. Backing paper is the sheet that is taped or glued to the back of a completed frame to prevent dust, dirt and debris from getting into the package. It also retards pollution and bugs, although the little critters can eat through almost any paper, glue or tape. Papers are available in a variety of grades beginning with basic Brown Kraft paper, Black Kraft, Lineco Gray, Black and White Tyvek from numerous industry suppliers and local GLAC distributors (photo 1).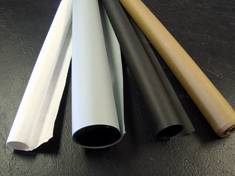 Photo 1
Only showing (L to R) White Tyvek, Lineco Grey, Black Kraft, and Brown Kraft
Basic black Kraft should be avoided for professional preservation as it has carbon in it that will mark and ghost onto light colored walls. Black Tyvek and CMI's 36" Acid Free Gray Kraft Paper. This 50# is a step up from the basic black but still below Tyvek Black in preservation standards. There are also private label brands that I am not addressing here. Black Tyvek is now available at Frank's Fabrics 45" wide 5yd to 50yd rolls beginning @ $19.75.
Application
I'm no doubt preaching to the choir, but I have noticed online that many how-to resources for applying a dust cover to the back of a frame involves misting the paper to moisten it so it pulls tight when dry. Not a good practice as it can create uneven stresses or pull the paper too tightly is wet too much. The correct method is to apply a bead of PVA glue or ATG tape completely around the edge on the frame, apply the paper to one side and pull taut to reach the other three sides. Burnish with a bone on all sides and slice with a sharp blade at 1/16"-3/32" in from the moulding outer edge to trim.
Sealing Tape
An alternative to paper backing is Lineco Frame Sealing Tape, which is acid neutral, pressure sensitive, available in gray or white in color. It is paper laminated to silver foil available at most art supply stores in boxes of 1¼" x 1000" (photo 2). These tapes work particularly well on metal frames which have a flat inner edge side on the back allowing for the tape to be applied, and burnished. It may also be used inside the frame package to provide an acid free barrier against migration of natural acids and resins found in wood frames or fillets.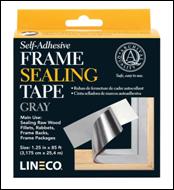 Photo 2
Lineco Sealing Tape is an metallic frame sealing tape.
Many preservation framers use Frame Sealing Tape over backing paper. Don Berkman, MCPF guilder and builder of closed corner frames was a huge advocate of sealing tapes for his custom frames. I also noticed sealing tapes used on one of this year's competition pieces. Brava! Well done.
END
Copyright © 2012 Chris A Paschke
For more articles on mounting basics look under the mounting section in Articles by Subject.
Additional information on all types of mounting is found in:
The Mounting and Laminating Handbook, Second Edition, 2002,
The Mounting And Laminating Handbook, Third Edition, 2008 and
Creative Mounting, Wrapping, And Laminating, 2000 will teach you everything you need to know about getting the most from your dry mount equipment and materials as an innovative frame designer.
All books are available from Designs Ink Publishing through this website.
Chris A Paschke, CPF GCF
Designs Ink
Designs Ink Publishing
785 Tucker Road, Suite G-183
Tehachapi, CA 93561
P 661-821-2188
chris@designsinkart.com