Paschke Online
Designs Ink Publishing Article Archive and Reference Library
Articles by Chris A. Paschke, CPF GCF
Mounting Matters, The LA Framer GLAC Newsletter
"Favorite Tools"
March 2011
Sometimes it is impossible to keep quiet about a new find. I can never have enough tools and when I come across one that becomes an extension of my right arm, well, I simply must share the find. Harbor Freight is a discount retail chain that is located across the USA with numerous stores and an online store. I found this little gem last summer and couldn't pass up the sale price at $9.95—regular $11.95. It is a 4.8V rechargeable battery screwdriver with six variable screw heads. The tool is uses an LED plug in charger and the charge lasts until used up as opposed to running down even when not in use as with conventional batteries (photo 1).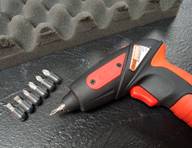 Photo 1
Harbor Freight 4.8V battery screwdriver
I originally thought it would be the perfect carpel tunnel wrist saver tool for the installation of platforms my float frame line for artists. Though small frames only require 4 to 6 screws, larger frames can be rather time intensive and repetitious. After it was fully charged I couldn't wait to try it out and queried as to just how tough and dependable this little dynamo might really be, so my first real test was at the installation of the adjustable Arakawa Hanging System for the new Walker-Strahan Gallery, Redding CA (photo 2).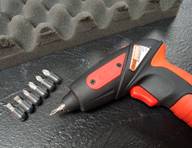 Photo 1
Arakawa Hanging System installation
The brackets needed to be screwed into wall headers at the top edge of the wall and the wood was very dense. Well, the little guy hunkered down and drove the screws in like a champ! Who knew? I returned and purchased two more, one for home and one for back up. I also purchased a handful of small PH1 replaceable Phillips screw heads since the tiny 3x¼" and 4x½" screws I use for the float frames are very small. It's worth the trip.
END
Copyright © 2011 Chris A Paschke
For more articles on mounting basics look under the mounting section in Articles by Subject.
Additional information on all types of mounting is found in:
The Mounting and Laminating Handbook, Second Edition, 2002,
The Mounting And Laminating Handbook, Third Edition, 2008 and
Creative Mounting, Wrapping, And Laminating, 2000 will teach you everything you need to know about getting the most from your dry mount equipment and materials as an innovative frame designer.
All books are available from Designs Ink Publishing through this website.
Chris A Paschke, CPF GCF
Designs Ink
Designs Ink Publishing
785 Tucker Road, Suite G-183
Tehachapi, CA 93561
P 661-821-2188
chris@designsinkart.com