Paschke Online
Designs Ink Publishing Article Archive and Reference Library
Articles by Chris A. Paschke, CPF GCF
Mounting Matters, The LA Framer GLAC Newsletter
"Flat Mounting Sanded Paper for Pastel Paintings"
October 2011
Pastel paintings are as popular as ever, with many artists selecting soft pastels as their medium of choice. Spacers, reverse bevels and sink mounts might all be elements used in framing an original pastel, as they have delicate surfaces which can smudge or dust-off. And they must never be sprayed with fixative nor pressed against glass by any framer. That said there is much a willing framer may learn from their pastel artist client about the handling of this delicate medium, while in turn teaching the artist a few tips and tricks making everyone's life easier upon painting completion.
Plan Ahead
Though a custom framer should never agree to dry, wet, or pressure-sensitive mount a finished pastel to a backing board, you may indeed dry mount raw 9x12" sheets of sanded paper—such as Wallis—to a larger backing board prior to the application of any pastel pigment (photo 1).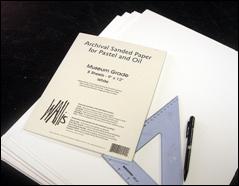 Photo 1
Wallis paper ready to be flat mounted to 16x20" rag boards prior to applying pastel pigments.
Measure and mark the rag substrate with a light pencil 3½" boarder all sides for easy placement during mounting. A manual mat cutter is perfect for this and a great time saver. Tack layers in place then mount. An alternative method is to premount the film adhesive to the back of the Wallis paper, trim, then flat mount to backing board. The white sanded paper should be mounted using a pure film adhesive rather than a tissue to at least a 4-ply rag board, though 8-ply is more rigid and therefore a better choice. Foam center board is not a good choice because it can easily dent or bend during pigment application.
Flat Mounting
Flat mounting is the economical technique of centering the mounted item directly to decorative board to serve as both mat and substrate. In this case flat mounting allows for future matting and spacers when framing the completed pastel painting. The sanded paper may be either premounted with film adhesive and flat mounted to the center of the substrate, or by centering the layers and mounting in one step (photo 2). The 9x12" sanded paper should be mounted to the center of a 16x20" backing to allow for 3-4" mats to be applied when framing (photo 3).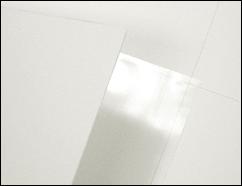 Photo 2
(L to R) Sanded paper, pure film adhesive, rag substrate.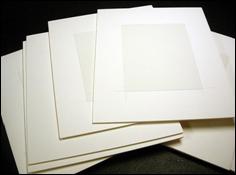 Photo 3
The paper is flat mounted to the center of 16x20" rag board allowing for 3-4" mats when framed.
This service will need to be promoted and "sold" to pastel artists because the mounting of a completed pastel would not only be an unethical procedure for original art, but would be impossible to achieve without the transfer and loss of pigment during the process making it too invasive to even suggest. Advertising the potential of premounting papers to substrates prior to medium application will begin as a promotional service but may end up being highly in-demand once promoted. Offering the mounting of unpainted watercolor papers and sanded pastel papers to your local artist community is the perfect way to avoid the later complications mounting a completed original. Dry mount films are inert and stable and once mounted to rag board the entire base remains preservation.
FYI, though most sanded pastel paper is produced as neutral and archival, but it is often packaged with an acid chipboard support backing, allowing acids from the backing to be absorbed by the pastel sheets, so mounting of these papers to a high quality cotton rag board may help.
END
Copyright © 2011 Chris A Paschke
For more articles on mounting basics look under the mounting section in Articles by Subject.
Additional information on all types of mounting is found in:
The Mounting and Laminating Handbook, Second Edition, 2002,
The Mounting And Laminating Handbook, Third Edition, 2008 and
Creative Mounting, Wrapping, And Laminating, 2000 will teach you everything you need to know about getting the most from your dry mount equipment and materials as an innovative frame designer.
All books are available from Designs Ink Publishing through this website.
Chris A Paschke, CPF GCF
Designs Ink
Designs Ink Publishing
785 Tucker Road, Suite G-183
Tehachapi, CA 93561
P 661-821-2188
chris@designsinkart.com