Paschke Online
Designs Ink Publishing Article Archive and Reference Library
Articles by Chris A. Paschke, CPF GCF
Mounting Matters, The LA Framer GLAC Newsletter
"Metallic Photos"
August 2011
A photo that appears to have a metallic finish would naturally translate into one that is out of the norm and may require special handling. Kodak Endura Metallic photos have been around for many years and are very popular for special event portraits such as weddings, graduations and sports events. They have a glossy finish with a distinctive metallic appearance (photo 1).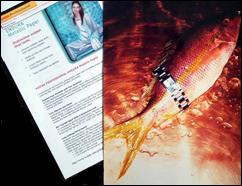 Photo 1
Kodak Endura Metallic RC photo paper may be treated as any traditional RC photo.
The metallic look of the paper is only a support feature accomplished by inclusion of mica in the base rather than actual metallic particles (photo 2). Image stability and lightfastness of Endura Metallic Paper is excellent at 100 years in typical home display, 200 years in dark storage, but only 1-5 years in commercial display. It shares the same emulsion as the Kodak Supra Endura Paper and performs in similar fashion. Plus the paper is designed so it may be used for developing both traditional film and digital printing, and the paper is compatible with Kodak and numerous other manufacturers digital LED printers. This is a resin coated (RC) paper and therefore may be mounted or laminated as you would any typical RC photograph, and as such are subject to fingerprints and orange peel issues.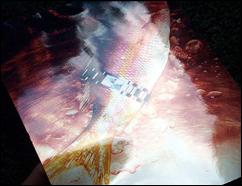 Photo 2
The metallic appearance is the result of mica in the paper coating beneath the image.
An updated version has been released as Kodak ENDURA Metallic VC Digital Paper for both traditional and digital photos. Kodak suggests to always use the lowest mounting temperature, pressure, and duration time to minimize impact on the final print appearance. I have not yet tested this metallic paper but it may have additional surface sensitivities due to the requirements of digital printing.
Heat Tolerance Tests
Basic preliminary testing of the photos were at temperatures of 150ºF, 175ºF, 195ºF using a Bienfang 210M-X mechanical press, a sheet of permanent ColorMount tissue adhesive, and Bainbridge 4-ply unbuffered photo board. The results showed no reactions to traditional mounting temperatures nor were there any indications to suggest use of cold mounting procedures might be advised. The high gloss surface was also unaffected by any heat applications. Even though average dry mounting temperatures have no effect on Endura Metallic Papers, selecting a lower temperature adhesive such as Bainbridge SpeedMount will always aid in the control of other photo issues such as orange peel. Another note: solvent tests on surface emulsion using UnStik (UnSeal), Undo, and Bestine Thinner showed no damage when spot cleaning, but fingerprints were nearly impossible to remove.
Kodak vs. Fuji
Fuji has their own version of the Kodak photo called Fujicolor Crystal Archive Digital Pearl Paper. Pearl-like crystals give silver halide color prints (RC) a distinctive pearl luster emulating the metallic appearance of the Kodak paper. Pearl paper contains pearly mica crystals covered with a thin layer of metal oxides—titanium dioxide—resulting in a silver-white and metallic reflection. Unlike the tough surface nature of the Kodak paper the Fuji paper is thinner and far more susceptible to orange peel and surface scuffing damage from heat. This occurs even at the low temperature 150ºF, short duration HA foam center boards like SpeedMount and Step 150.
Check the text written on the verso side of the photo, it will help indicate what you are dealing with. Also feel the weight of the paper, fully examine the image and if still at a loss, call Chris.
END
Copyright © 2011 Chris A Paschke
For more articles on mounting basics look under the mounting section in Articles by Subject.
Additional information on all types of mounting is found in:
The Mounting and Laminating Handbook, Second Edition, 2002,
The Mounting And Laminating Handbook, Third Edition, 2008 and
Creative Mounting, Wrapping, And Laminating, 2000 will teach you everything you need to know about getting the most from your dry mount equipment and materials as an innovative frame designer.
All books are available from Designs Ink Publishing through this website.
Chris A Paschke, CPF GCF
Designs Ink
Designs Ink Publishing
785 Tucker Road, Suite G-183
Tehachapi, CA 93561
P 661-821-2188
chris@designsinkart.com