Paschke Online
Designs Ink Publishing Article Archive and Reference Library
Articles by Chris A. Paschke, CPF GCF
Mounting Matters, The LA Framer GLAC Newsletter
"More On Honeycomb"
February 2013
In my November column I chatted about substrates including hardboard, 8-ply and honeycomb. I've been doing a little more research on honeycomb and have uncovered Hexacomb and Eaglecell. Hexacomb Falconboard is currently available locally from our own Barry Kauffman, Cali Framing Supplies, Pacoima CA. There is also a new Gilman Brothers panel soon to be released, Gilman Eaglecellhoneycomb graphic board which will be available from Ron Paller, Valley Moulding & Frame. Tycore and Hexamount from Hollinger Metal Edge are the preservation boards used by museums which are made of lignin-free, buffered, conservation facing paper while Hexacomb is the economy version for production applications (photo 1). I have not yet received samples of Eaglecell.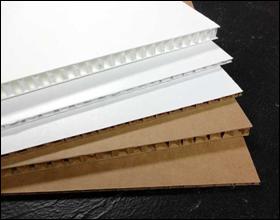 Photo 1
(T to B) Tycore ¾"; Hexacomb All White ¼"; Print ¼"; Mount ½" and Mount 3/16"
Hexacomb
As noted in the photo Hexacomb was developed as a green alternative to PVC foam board, Gatorboard, and ultra board made with up to 20% recycled content that is 100% recyclable. Boards are available in both Kraft and ALL WHITE core known as Hexacomb Mount (all Kraft), Hexacomb Print (white surface paper, Kraft core) and Hexacomb Build, which offers the All White core and surface paper. Applications include direct digital printing, screen printing, interior signage, mounting, shadowbox construction and point-of-purchase (POP) displays. Having been developed for the sign and digital market sheets are available larger than general framing substrates and in thicknesses from 3/16" to 2" in: 48"x 96", 48"x 120", 60"x 96", and 60"x 120". The longer and wider boards make it an option for wide format prints with a roller laminator and high tack pressure sensitive adhesive.
Test Mounts
There are pros and cons to all substrates so when I was shipped sample boards 3/16", ¼" and ½" thick in the three types I put them through a few very basic dry mount, pressure-sensitive mount and wet mount tests just to get a feel for it. Though Hexacomb is a very affordable alternative to Gatorboard it compares to it as apples to oranges. Gator is supremely rigid, smooth, and comes in a wide variety of thicknesses and sizes with different surface papers, but the wood veneer on either side—which creates its rigidity—disallows it being a preservation substrate. Hexacomb offers similar sizes and thicknesses with a brightness value of 88, at a greatly reduced price, but sacrifices the pure rigidity of the thinner Gatorboard, and even though All White appears preservation it is not. It is however an environmentally responsible "green" product made from reusable, renewable and recyclable virgin Kraft paper, but yes, it is Kraft paper.
So far it has only been tested up to 18x24", but it mounts without crushing with a smooth yet absorbent surface that receives both tissue and film adhesives well. It dry mounts with no crushing, but comes from the press warped when hot. As it cools it self-flattens, even without weighting, though not totally (photo 2). The 3/16" doesn't appear to have any advantage over foam center board, plus clay coat foam has a smoother surface that better resists orange peel. It is a good alternative for the application of fabrics but remember both wet and dry mounts will still warp more than Gator.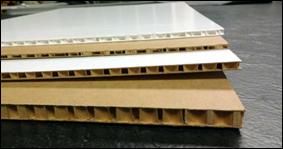 Photo 2
Top three were more warped when first mounted but have flattened about 75%. Bottom ½" appears nearly flat after cooling.
Dry mounted and wet mounted samples showed no orange peel but the pressure-sensitive with roller laminator does showcase a honeycomb patter orange peel if rollers are set too tight (photo 3). All in all, Hexacomb—particularly All White—is another alternative that every framer should be aware of and is probably best with roller laminator applications, and when used at the proper pressure should reveal little or no orange peel—and the prices are great.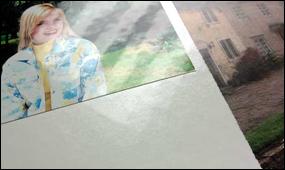 Photo 3
Orange peel is the result of substrate surface texture. The honeycomb pattern becomes visible when P-S mounted with a RL rollers set too tight.
Eaglecell
Gilman Eaglecell is reported to be a 100% white paper product manufactured from 72% recycled post consumer material, which has a dent resistant surface paper and a fabricated core that forms a series of triangular cells. Originally produced for exhibits, indoor signage and digital printing there could be a market for this in production framing or large format mounting. Like Honeycomb, these panels provide strength, rigidity, and warp resistance for production operations. As soon as I receive large test boards I will report my results.
END
Copyright 2013 Chris A Paschke
Resources — Products
Hollinger Metal Edge: www.hollingermetaledge.com — Tycore and Hexamount
Cali Framing Supply: www.califramingsupplies.com — Hexacomb
Falconboard: www.falconboard.com — Manufacturer
Eaglecell: www.mulfordplastics.com — Manufacturer

END
Copyright © 2013 Chris A Paschke
For more articles on mounting basics look under the mounting section in Articles by Subject.
Additional information on all types of mounting is found in:
The Mounting and Laminating Handbook, Second Edition, 2002,
The Mounting And Laminating Handbook, Third Edition, 2008 and
Creative Mounting, Wrapping, And Laminating, 2000 will teach you everything you need to know about getting the most from your dry mount equipment and materials as an innovative frame designer.
All books are available from Designs Ink Publishing through this website.
Chris A Paschke, CPF GCF
Designs Ink
Designs Ink Publishing
785 Tucker Road, Suite G-183
Tehachapi, CA 93561
P 661-821-2188
chris@designsinkart.com