Paschke Online
Designs Ink Publishing Article Archive and Reference Library
Articles by Chris A. Paschke, CPF GCF
Mounting Matters, The LA Framer GLAC Newsletter
"In-House Shipping Boxes"
February 2012
There are many types of boxes that may easily be adapted to shipping of framed art, and many common practices are not the best for fragile items, even when recommended by UPS, USPS or FedEx.
Rigid Packages and Filler
There is a sad misconception that the rigidity of packaging is the major element which prevents damage during shipping…which is not the case. When a cardboard box is lined—on all sides, top and bottom—with ¼" plywood, and stacked full of sheets of 1" polystyrene (photo 1) though the shipping box is solid, any exterior concussion will be transferred through all the layers to the art in the center. The stained glass art is lightly padded by a folded layers of newsprint paper, still sandwiched snuggly between the layers of Styrofoam (photo 2). Although the inner art is wrapped in multiple layers of newsprint paper, there is not enough actual cushion to prevent concussion.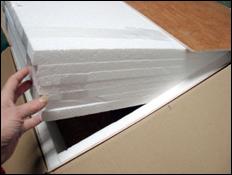 Photo 1
The box is lined all sides with ¼" plywood, stacked full of sheets of 1" polystyrene.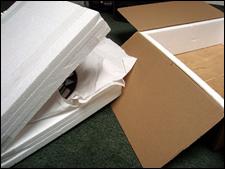 Photo 2
Stained glass art is sandwiched between the rigid layers. Though soft, they are not truly cushioned.
Corrugated boxes are fine for the exterior back unit as long as there is adequate cushioned space surrounding the framed art being shipped. It is cushioning that actually protects fragile items from damage caused by impact and aggressive handling. UPS states there are three types of approved cushioning: small cell bubble wrap; tightly wadded 60# Kraft paper; and loose pellet fill.
Bubble wrap features encapsulated air which provides wonderful cushioning against shock and abrasion. Use multiple layers of wrap and a full 2" around the frame and from the box wall. Wadded Kraft paper is heavier and it is its resistance to collapsing that gives the added cushion. Lightweight Kraft and newsprint is too light to use. It should be well packed so the framed art does not move within the box when shaken.
Loose fill—pellets or peanuts—a terrible, messy invention, but lightweight and do give decent cushion. They are recommended most for use with non-fragile items such as books…not glassed frames. If packing fragile framed art with pellets, first wrap with bubble wrap then surround with a minimum of 2" of polystyrene pellets. There are many negatives to using pellets for padding. They can compress and settle during shipping allowing for art to shift during transport. They also create static electricity, though anti-static pellets are available. And the biggest problem is the mess both during packing and when unpacking. It is highly recommended NEVER to use pellets whenever framed art is being shipped and will be returned back to you—as for framing competition, as the unpacking and repacking causes a great deal of wasted time and mess.
Cushioned Boxes
Foam board boxes are perfect for shipping. They may be made custom size to the art being shipped and are reusable. Directions available in Creative Mounting, Wrapping And Laminating, pgs 84-89, available at PFM bookstore. The drop spine box (photo 3) is a single unit that closes over the box bottom giving the wall a double thickness and even more structure (photo 4). Boxes are assembled out of 3/16" to ½" foam boards and should be sized to allow a full 2" sponge padding on all sides of the frame.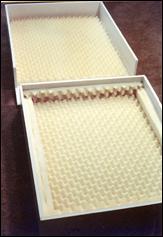 Photo 3
The lid of this drop spine box bottom and lies flat when open. Eggcrate sponge for bedding has been used to line the box.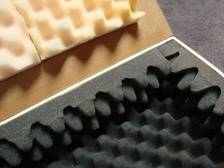 Photo 4
White (bottom box) and brown Kraft (top lid) Gatorboard were used for this box. Gray commercial acoustic eggcrate foam lines base.
A basic hinged box (CMW&L page 86) is less time intensive and used less materials, and is a perfect well padded box, particularly if a commercial grade denser eggcrate sponge is selected. The gray acoustic eggcrate foam, also called convoluted foam, is available in 72" x 80" x 2½" thick sheets online from The Foam Factory for $47 per sheet covering 40 square feet. Two sheets purchased allows for free shipping.
When building a box for protecting fine framed art when shipping make certain to suspend the fragile art in the center with soft outer cushions, or suspended. Avoiding pellets, peanuts and shredded paper should be foremost as often a gallery or competition will disqualify a frame shipped in them.
END
Copyright © 2012 Chris A Paschke
For more articles on mounting basics look under the mounting section in Articles by Subject.
Additional information on all types of mounting is found in:
The Mounting and Laminating Handbook, Second Edition, 2002,
The Mounting And Laminating Handbook, Third Edition, 2008 and
Creative Mounting, Wrapping, And Laminating, 2000 will teach you everything you need to know about getting the most from your dry mount equipment and materials as an innovative frame designer.
All books are available from Designs Ink Publishing through this website.
Chris A Paschke, CPF GCF
Designs Ink
Designs Ink Publishing
785 Tucker Road, Suite G-183
Tehachapi, CA 93561
P 661-821-2188
chris@designsinkart.com