Paschke Online
Designs Ink Publishing Article Archive and Reference Library
Articles by Chris A. Paschke, CPF GCF
Mounting Matters, The LA Framer GLAC Newsletter
"Which Wire?"
July 2011
I realize that framers should already know all about wire—but considering what I have seen on competition pieces I think a little review is always good, and selecting the correct wire to support your framed is every bit as important as using the right hardware. Picture frame wire comes in many different types and weights. There is braided galvanized steel, twisted stainless steel, stainless plastic coated, copper plastic coated, and nylon coated sleeve systems. Galvanized is the most used, but the least effective, of all wire. Plastic coated stainless wire will not mar walls, back of picture frames, hurt hands during installation, is corrosion resistant and will not rust or discolor. Coated copper is softer and easier to work with but does not have the strength of stainless steel.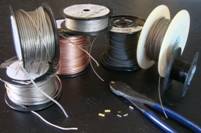 Photo 1 (L to R)
Coated stainless #6 and #8; coated copper #9; stainless #3; braided; and two weights Sevalon sleeve system with crimper tool.
Weights
As braided interwoven galvanized steel wire diameter increases the strands remain constant in size but additional strands are added to the braid. A #2 braided wire has 12 strands while a #8 braided has 36 strands. In contrast, all stainless steel wire contains seven strands that have been tension twisted like a cable, and as the wire gets larger the strands increase in diameter. This makes twisted wires comparatively stronger than braided, but also less flexible.
When selecting the correct weight wire for your painting it will vary depending upon the type of wire selected. The break strength of a galvanized wire should be four times the weight of the frame, while the break strength of a coated stainlessis three times the frame. A 10 pound painting requires a 30 pound maximum weight stainless wire, but a 40 pound galvanized braided wire.
A #3 braided wire has a maximum capacity of 16 pounds while a #3 stainless steel picture wire has a maximum strength of 20 pounds. Though a #3 braided and #3 stainless have the same break point at 68# the cabled stainless wire can handle a heavier painting. The larger/heavier the wire the more the variance between braided and cabled structure. A #8 braided is rated at 36 pounds with a 145# break point, while #8 stainless is 60 pounds with 170# break point. Note the softer coated copper has a break strength of 170 pounds, but a maximum frame weight of only 40 pounds.

Sleeve Systems
Sleeve systems offer a very high end appearance and are easy to install, but run more than coated wire. Sevalon, Eagle Klaw and Surflon are nylon coated crimper systems for wiring frames. The coated stainless is available in black, bronze and clear coating with matching crimp sleeves. A crimping tool is necessary to crush the metal sleeve that holds clamps the wire in place. The wire should be fed through the sleeve, around the hanger of choice then slid back through the sleeve. To assure it will not slip the wire may be turned back and passed through the sleeve a third time. Make certain the sleeve is well crimped.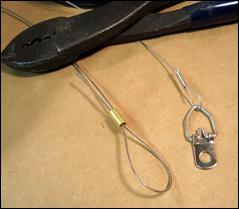 Photo 2
Crimping tool/wire cutter top. Wire is fed through sleeve three times (R) only twice (L).
Selection
When choosing your wire bay close attention to the types and weights of frames you will be hanging. It is most likely an artist will require a number of different weight wires to accommodate all their hanging needs. Most likely a coated stainless steel wire will be your best choice, and probably a #3 and #5 will handle most all your demands. Keep in mind it is better to select a wire too heavy than too light.
END
Copyright © 2011 Chris A Paschke
For more articles on mounting basics look under the mounting section in Articles by Subject.
Additional information on all types of mounting is found in:
The Mounting and Laminating Handbook, Second Edition, 2002,
The Mounting And Laminating Handbook, Third Edition, 2008 and
Creative Mounting, Wrapping, And Laminating, 2000 will teach you everything you need to know about getting the most from your dry mount equipment and materials as an innovative frame designer.
All books are available from Designs Ink Publishing through this website.
Chris A Paschke, CPF GCF
Designs Ink
Designs Ink Publishing
785 Tucker Road, Suite G-183
Tehachapi, CA 93561
P 661-821-2188
chris@designsinkart.com