Paschke Online
Designs Ink Publishing Article Archive and Reference Library
Articles by Chris A. Paschke, CPF GCF
Framing Matters, IEA Newsletter - Wax-On
"Framing Panels"
May 2013
Cradled boxes are not the only substrates used in encaustic painting. Thick MDF, hardboard, Ampersand coated panels, Baltic birch plywood, honeycomb and 8-ply rag board all make up possible panels which run between ⅛" to ½" think depending on the material. These painted panels cannot be displayed with no frame without looking cheap or amateur. That said, I am certain someone might have a wonderful installation requiring thin panels, perhaps a multi level floated non-touching collage of pieces all mounted together into a unit, which would not be amateur but very sophisticated. That might just be need to be another column.
Sink Mount
When thinner panels are the substrate more traditional framing might be the answer. Photo 1 shows an 8-ply panel rag panel with embedded papers, opaque wax and medium by Gwen Walker-Strahan. It was mounted to a linen covered foam center board by a framer in Redding, CA. The exposed raw edges and the overall appearance of the panel glued to the center of the backing felt incomplete and Gwen opted to have it reframed by me a few years later. We used the same frames but discarded the linen backing replacing the mat with a laminated black window mat—not requiring glass-that featured a sink mount method (photo 2). The new framing eliminated all use of adhesive this preserving the original from future damage.
Photo 1
8-ply rag panel glued to linen backing leaving raw edges exposed.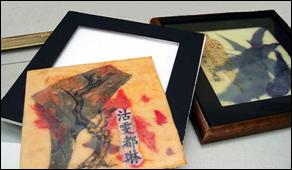 Photo 2
¼" birch panels reframed using sink mount method in same frames.
Float Frame
Float—or floater—frames are often the second most popular alternative to no frame for encaustic panels. There are a great many versions, depths and colors available and when there is a deckled dripped wax edging these are the only real option. Photo 3 shows an 8-ply rag panel set back into a light walnut wood frame while photo 4 shows the panel about ⅛" from the float face set just below the surface.
Photo 3
8-ply rag panel set deep into float frame with ¼" float space.
Photo 4
Panel set just below surface in silver faced float frame.
Traditional Frames
If the edges of your panel are clean and square, don't forget the huge variety of traditional frames that may be used with encaustics. From basic small stem frames to wide traditional oil painting frames with 3" wide linen liners may be used with any rigid encaustic as long as the panel fits into the depth of the frame rabbet. Photo 5 shows a wonderful wood veneer frame that easily accommodates 8-ply rag up to ¾" MDF and every panel thickness in between.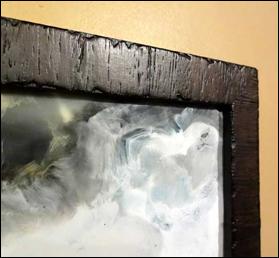 Photo 5
A ½" wide x 1" deep stem moulding is shown on a ¼" wood panel.
In future articles I'll discuss more specific types of traditional frames and make suggestions for display options.
END
Copyright © 2013 Chris A Paschke
For more articles on mounting basics look under the mounting section in Articles by Subject.
There is a special section in the library for all past IEA Framing Matters articles from Wax-On!

Additional information on all types of mounting is found in:
The Mounting and Laminating Handbook, Second Edition, 2002,
The Mounting And Laminating Handbook, Third Edition, 2008 and
Creative Mounting, Wrapping, And Laminating, 2000 will teach you everything you need to know about getting the most from your dry mount equipment and materials as an innovative frame designer.
All books are available from Designs Ink Publishing through this website.
Chris A Paschke, CPF GCF
Designs Ink
Designs Ink Publishing
785 Tucker Road, Suite G-183
Tehachapi, CA 93561
P 661-821-2188
chris@designsinkart.com