Paschke Online
Designs Ink Publishing Article Archive and Reference Library
Articles by Chris A. Paschke, CPF GCF
Framing Matters, IEA Newsletter - Wax-On
"Steel and Strap Hangers"
August 2011
Framing hardware is probably the least thought of element in framing. When matting art on paper the hinges must always remain the weakest link in the package, so that if a frame falls or is dropped the hinge will break long before the art tears. Hardware on the other hand must be secure at all costs.
I've already commented on the use of sawtooth hangers in April, then eye screws May, mentioning D-rings are the most used alternative to them, but they too have their limitations. Typical single hole D-ring hangers are a marginal for heavy weight frames, as a single screw D-ring can pull out of soft wood just like a screw eye. So it stands to reason that a hanger with multiple screw holes will hold stronger than a single screw, even on soft wood. And just as wire must be rated at three times the weight of the frame, you must consider weight and number of screws when selecting the appropriate D-ring hanger for your frame.
As D-ring hangers increase in size the metal they are made of is heavier, the number of holes increases and those holes are larger for heavier gauge screws (photo 1), I'll discuss screws next month. When used with picture wire, strap and D-ring hangers should be positioned on the back of the frame at an angle that will roughly match the angle of the picture wire when the picture is hung. When used without wire, strap and D-ring hangers should be aligned vertically at the upper corners on the back of the frame. The picture is then are hung directly on substantial picture hooks or screws anchored into the wall.
Photo 1
Single hole D-ring hangers (top row); D-strap hangers (bottom row); D-ring for metal moulding (L)
Strap Hangers
Heavy-duty D-ring hangers are also called strap hangers, mirror hangers, ring hangers or D-ring hangers. They can be used with or without picture wire and are intended for hanging mirrors, heavy wood frames, gallery wraps or cradled boxes. If used without wire the straps should be installed vertically along the frame edge rather than angled in at 60 degrees when using wire.
Steel Hangers
Steel hangers (photo 2) are a particular type of solid metal hanger with either two or four holes, and must be used with wire. They are designed to be mounted vertically at ¼ to ⅓ down from the top edge of the frame either centered on a narrow moulding or about ½" from the inner edge of a wider moulding. And all screws holes should be used. The stronger four screw plate is no stronger than a two hole plate regardless of the length. The idea is to dissipate the stress of the wood by having staggered screws, plus multiple screws increases the hold preventing the screws from pulling out of MDF or soft wood.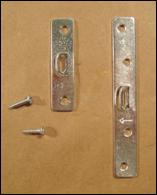 Photo 2
Steel Hangers (plate hangers)
As with picking the correct weight wire remember the hangers must be rated for more weight than they will actually be required to hold.
END
Copyright © 2011 Chris A Paschke
For more articles on mounting basics look under the mounting section in Articles by Subject.
There is a special section in the library for all past IEA Framing Matters articles from Wax-On!

Additional information on all types of mounting is found in:
The Mounting and Laminating Handbook, Second Edition, 2002,
The Mounting And Laminating Handbook, Third Edition, 2008 and
Creative Mounting, Wrapping, And Laminating, 2000 will teach you everything you need to know about getting the most from your dry mount equipment and materials as an innovative frame designer.
All books are available from Designs Ink Publishing through this website.
Chris A Paschke, CPF GCF
Designs Ink
Designs Ink Publishing
785 Tucker Road, Suite G-183
Tehachapi, CA 93561
P 661-821-2188
chris@designsinkart.com