Paschke Online
Designs Ink Publishing Article Archive and Reference Library
Articles by Chris A. Paschke, CPF GCF
Framing Matters, IEA Newsletter - Wax-On
"Please Release Me…"
September 2009
Over the past six months there have been a number of IEA Forum and RF Paint Forum chats discussing the pros and cons of using wax paper, glassine, or release paper being placed against the surface of encaustic art to protect it. I have chimed in on these forums whenever possible in an attempt to help educate about the options available. Then there was a fabulous featured panel discussion at Montserrat this past June and the honored conservators made a very strong statement over never, NEVER letting anything touch the surface of your art. And what they said is absolutely true. In the museum world the idea of always being able to build a storage or shipping box that will allow for art to be suspended without surface contact is quite possible, but in our real artist world we sometimes need a more artist friendly and affordable way to store and/or ship our originals, while also protecting them from surface damage.
Wax Paper or Release Paper
It is frequently taught that wax paper is a decent material for covering or wrapping encaustics to protect their surface. And although this is an accepted practice, wax paper can react and stick to encaustic. Glassine is a relatively nonstick, uncoated, nonporous sheet that can also stick to the wax when it gets warm, and may alter the encaustic surface. Glassine is the crackly envelope from the Post Office that collectable stamp sheets are placed in to protect them from moisture.
During dry mounting, framers and photographers use a nonstick silicone coated paper called release paper to prevent mounting adhesives from sticking to or coming into direct contact with the inside of a press and leaving adhesive residue. This same release paper is what I recommend to encaustic artists for protecting the surface of their encaustic images. But all release papers are not created equal.
Types of Silicone
There are many types of silicone coated products available from peel tabs on the back of a Band-Aid to rolls used as removable liners on pressure-sensitive laminates, tapes and such. The degree and type of silicone coating can sometimes leave a powdery residue on the surface as is the case with encaustic wax. A recent RF Paint Forum thread announced inexpensive rolls of release paper being sold on eBay. I checked it out and they are indeed inexpensive—2000' for under $200—a great deal. It is a product that was used in manufacturing and not for fine art picture framing, and I fear it may very well leave a mottled residue on the wax. Buyer beware.
Recommended release paper comes in rolls from 24" wide to 50" wide and 30 yds to 150 yds long (photo 1). Rolls may be heavyweight single-sided, lightweight double-sided, gridded single-sided, translucent Mylar two-sided, and blue tinted single-sided mounted to a rigid core as release boards (photo 2). The Bienfang single-sided is by far the best product for encaustic needs. Do not use release boards because their surface texture can embed in to encaustic surface, and the others can all leave silicone residue on the wax.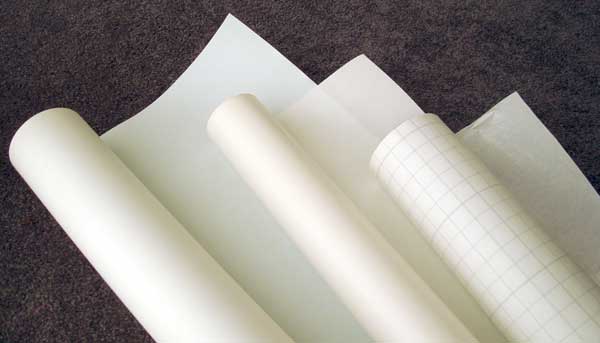 Photo 1 (L to R)
Rolls of Bienfang single-sided release paper, heavyweight and blue tinted; Bienfang double-sided release paper, white and thinner; and Drytac single-sided release paper, grided on one side.
Available up to 52" wide and 50 yards long from framing distributors.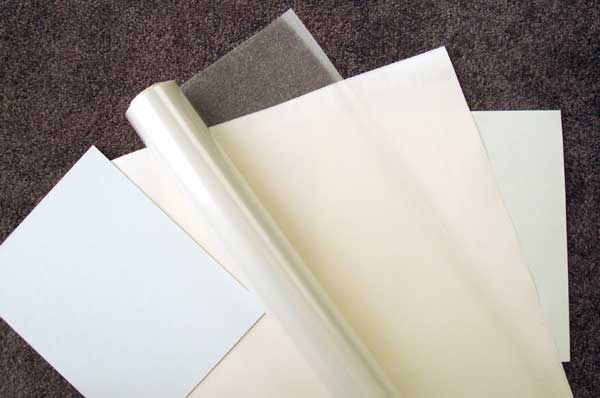 Photo 2 (L to R)
Bienfang release board; translucent Drytac Mylar release paper; sheet of cut double-sided white release paper; and small square of Bienfang single-sided blue release paper.
Do not use release boards because their surface texture can embed into encaustic surface.
Rolls of framing release paper will run $130 to $150 for a 40" x 30 yard roll. The best prices are from M&M Distributors (www.MMDistributors.com) or United Manufacturers Supplies (www.unitedmtrs.com) both out of New Jersey. — Or if you would rather buy it in smaller increments directly from me it is currently $2.50 per foot.
Making a Cover Sheet
A cover sheet is a sized insert that is cut to fit each individual panel or frame. Cut a sheet of 3/16" foam center board to fit inside the float frame or to fully cover the surface of the art panel. Attach a single-sided sheet of release paper to one side of the foam board and bubble wrap to the other to fill the space between the surface of the encaustic panel and the top of the frame. This will prevent the silicone sheet from slipping around and scratching the wax (photo 3). The release sheet may be glued, taped, or left loose though attaching it the the foam board porevents shifting during transport. The insert should just fit inside the frame with little play to restrict unwanted movement. The advantage to using foam board instead of corrugate or rag mat is tat foam is an insuklater rather than a conductor of heat and will also help protect the was surface from eccessive heat penetration.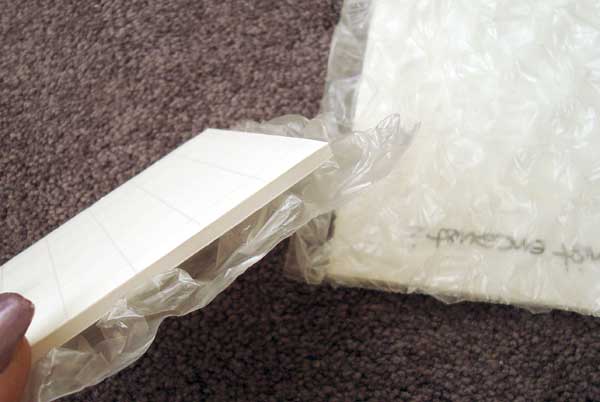 Photo 3 (L to R)
A single-sided release sheet is mounted to one side of 3/16" foam center board. The back side has a sheet of bubble wrap attached to protect the edges of the frame.
Make a note in felt pen under the bubble wrap to indicate which side is against the wax.
Though the sample in the photo uses the grided silicone paper I have opted for using only the blue tinted heavyweight single-sided paper as it does not leave any silicone residue on the wax. This residue looks like a mottled blotchiness that I do not like to have to buff out of the wax. — The thinner double-sided paper cannot be adheared to the foam insert because the silicone on both sides does not allow for adhesive to stick to it. And the grided release rolls—though cheaper—can leave the same mottled look mentioned above.
END
Copyright © 2009 Chris A Paschke
For more articles on mounting basics look under the mounting section in Articles by Subject.
There is a special section in the library for all past IEA Framing Matters articles from Wax-On!

Additional information on all types of mounting is found in:
The Mounting and Laminating Handbook, Second Edition, 2002,
The Mounting And Laminating Handbook, Third Edition, 2008 and
Creative Mounting, Wrapping, And Laminating, 2000 will teach you everything you need to know about getting the most from your dry mount equipment and materials as an innovative frame designer.
All books are available from Designs Ink Publishing through this website.
Chris A Paschke, CPF GCF
Designs Ink
Designs Ink Publishing
785 Tucker Road, Suite G-183
Tehachapi, CA 93561
P 661-821-2188
chris@designsinkart.com