Paschke Online
Designs Ink Publishing Article Archive and Reference Library
Articles by Chris A. Paschke, CPF GCF
Framing Matters, IEA Newsletter - Wax-On
"Sink Mounts for Hardboards"
January 2010
Many encaustic artists are working on cradled panels, but some are opting for thinner 8 ply rag board, ⅛" hardboards (like Masonite), ⅜" MDF (medium density fiberboard), or clay coated boards such as Ampersand Claybord, Dick Blick, Daniel Smith or other private label hardboards. As with many commercial boards, Ampersand Hardbord is available as ⅛" flat panels suitable for standard framing; ¾" cradled panels for float frames, and 2" cradled boxes that stand alone with no frame.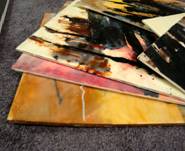 By standard framing they simply mean placed into an average depth frame as you might display any ⅛" painted canvas board. For oils and acrylics, when the look of a mat is desired, a linen liner is added as an inner frame. If a traditional mat is desired then a sink mount is a viable alternative.
A sink mount is a noninvasive, reversible, reusable, support system used under a window mat. It uses a simply constructed pinwheel of ⅛" or 3/16" foam board as a framework to surround the hardboard panel.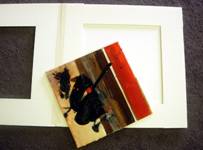 The pinwheel is attached to the backing board and the encaustic art panel is placed inside the borders of the pinwheel, which is then held in place by a top window mat that is cut ¼" smaller than the pinwheel. This holds the panel in place using no adhesives, clips or permanent fusing, making the process 100% save and used by conservators around the world.
How-To Assemble a Pinwheel
Cut a backing board out of foam board or 4ply mat board the size of the frame.
Center the completed encaustic on the backing and measure equal side widths.
Draw pencil lines on backing as pattern for pinwheel.
Measure total thickness of panel with encaustic.
Cut four strips of foam center board the depth of the encaustic and panel to fill the side spaces.
Apply PVA white glue or two-sided tape to the back of the strips.
Align the first pinwheel strip to lower left corner of the pencil marks.
Butt each successive strip against the previous one.
Turn sink mount face down and cut off any protruding strip ends.
Hinge the window mat to the pinwheel sink mount like a book.
The sink mount strips should be level with the surface of the art.
Fit into glassed frame.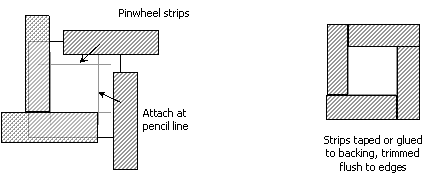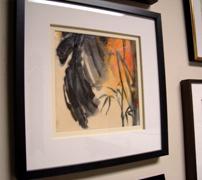 All framers should know how to create a sink mount. Just make sure the frame is deep enough for this type of spacer.
END
Copyright © 2010 Chris A Paschke
For more articles on mounting basics look under the mounting section in Articles by Subject.
Additional information on all types of mounting is found in:
The Mounting and Laminating Handbook, Second Edition, 2002,
The Mounting And Laminating Handbook, Third Edition, 2008 and
Creative Mounting, Wrapping, And Laminating, 2000 will teach you everything you need to know about getting the most from your dry mount equipment and materials as an innovative frame designer.
All books are available from Designs Ink Publishing through this website.
Chris A Paschke, CPF GCF
Designs Ink
Designs Ink Publishing
785 Tucker Road, Suite G-183
Tehachapi, CA 93561
P 661-821-2188
chris@designsinkart.com