Paschke Online
Designs Ink Publishing Article Archive and Reference Library
Articles by Chris A. Paschke, CPF GCF
Framing Matters, IEA Newsletter - Wax-On
"Tycore, Hexamount & Hexacomb Panels for Encaustic"
February 2013
As mentioned in June 2012 Framing Matters, Tycore and Hexamount are two commercially produced preservation honeycomb panel products available that are lightweight, rigid boards used for mounting large works of art and encaustic painting. The honeycomb interior has 7/16" cells that are the source of the board's strength and rigidity. The core is made of chemical pulp adhered to alpha cellulose conservation facing boards adhered with neutral polyvinyl acetate (PVA) adhesive. Tycore is the most stable of any fiber based mounting board constructed of honeycomb supports faced with acid free, neutral pH, off-white paper ¾" thick 30"x40" and 40"x60" panels and ½" thick 48"x96" panels.
Hexamount panels are also constructed of hexagonal honeycomb center with lignin-free, buffered, conservation facing paper which passes the Photo Activity Test (PAT). Both sides of the core is surfaced with a layer of either black or white conservation board of virgin fiber alpha cellulose white wood pulp. Available ¾" thick 30x40" and 40x60", and ½" thick 32x48" and 48x96". All honeycomb panels cut easily with sharp mat knife and metal straightedge (photo 1).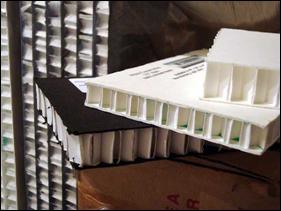 Photo 1
Tycore ¾" (top R); Hexamount ½" white (center) and ½" black (bottom). All preservation quality boards.
Hexacomb
Hexacomb Falconboard is the newest honeycomb product that has reached the framing market. It was designed and developed as a green alternative to foam center board and Gatorboard manufactured with 20% recycled paper and 80% virgin paper content available 3/16" to 2" thick 48"x 96", 48"x 120", 60"x 96", and 60"x 120". Though its intended applications include direct digital printing, interior signage, mounting, and point-of-purchase (POP) displays, it appears to also be well suited to encaustic at an economy price. Boards are available as brown Kraft composition known as Hexacomb Mount (all Kraft), Hexacomb Print (white clay-coat surface paper, Kraft core) and Hexacomb All White (photo 2).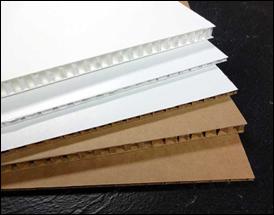 Photo 2
Hexacomb ¾" All White (top); Hexacomb ¼" All White; Hexacomb ¼" Print; Hexacomb ½" and 3/16" Mount
Encaustic on Honeycomb
I have not yet tested all Hexacomb boards with encaustic but the preservation Tycore and Hexamount have been very successful with encaustic medium (photo 3). Since we are used to painting our wax medium onto wood panels, MDF, hardboard and other lignin based substrates it stands to reason the Kraft ½", ¾" and 1" Hexacomb panels might be fine for encaustic painting also. The price of a ½" thick sheet 48x96" Hexacomb Mount is around $50 while the same size sheet of Hexamount Conservation White is more than twice, Hexamount Museum White is three times, and Tycore is four times plus tax and shipping. The biggest drawback is that all sheets are sold by case lot only which could make your substrate investment quite sizeable.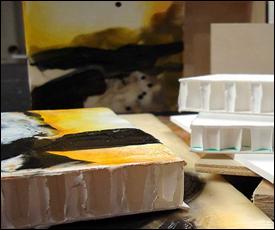 Photo 3
Paintings on ¾" Tycore
Back in 2007 Laura Moriarty commented on Tycore on the RF Forum stating though expensive it might be worth consideration because it doesn't require bracing or gesso ground preparation prior to painting. Tycore panels are not necessarily cheaper than wood panels, but with its ease of cutting, warp resistance, strength, weight and rigidity might be worth trying. With the launch of Hexamount a few years ago and now the economy of Hexacomb, painting on more preservation honeycomb panels should truly be considered. Who knows…you might like it as much as I do.
END
Copyright 2013 Chris A Paschke
Resources — Products
Hollinger Metal Edge: www.hollingermetaledge.com — Tycore and Hexamount
Museum Services Corporation: www.museumservicescorporation.com — Tycore
Talas: www.talasonline.com — Tycore
Gaylord: www.gaylord.com — Tycore
University Products: www.universityproducts.com — Hexamount
Cali Framing Supply: www.califramingsupplies.com — Hexacomb
Falconboard: www.falconboard.com — Maunfacturer
For more articles on mounting basics look under the mounting section in Articles by Subject.
Additional information on all types of mounting is found in:
The Mounting and Laminating Handbook, Second Edition, 2002,
The Mounting And Laminating Handbook, Third Edition, 2008 and
Creative Mounting, Wrapping, And Laminating, 2000 will teach you everything you need to know about getting the most from your dry mount equipment and materials as an innovative frame designer.
All books are available from Designs Ink Publishing through this website.
Chris A Paschke, CPF GCF
Designs Ink
Designs Ink Publishing
785 Tucker Road, Suite G-183
Tehachapi, CA 93561
P 661-821-2188
chris@designsinkart.com