Paschke Online
Designs Ink Publishing Article Archive and Reference Library
Articles by Chris A. Paschke, CPF GCF
Framing Matters, IEA Newsletter - Wax-On
"Proper Wire Installation"
July 2011
Improperly attached and wound wire may slip with time, but properly attached and twisted wire will not slip. Thread one end of the wire over the D-Ring or hanger hardware, not a screw eye. Cross the short threading end to the left across on top of wire then up down through the hanger from behind and through the wire loop creating a lark's head knot. Pull tightly and wrap the remaining wire end tightly around the hanging wire.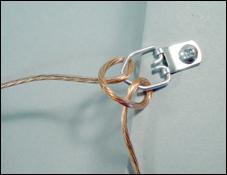 Photo 1
Loose lark's head shows pattern of threading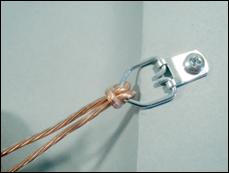 Photo 2
Pull knot tight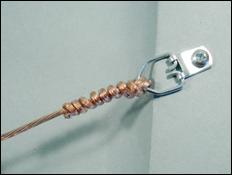 Photo 3
Twist loose end into tight wraps snug against knot
The wire should be pulled up at center to half the distance between the horizon line of the hangers and the top of the frame. This will allow for two hooks to keep the painting flat and horizontal against the wall.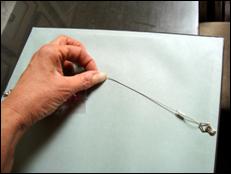 Photo 4
Wire should reach half to top of frame once attached both sides
END
Copyright © 2011 Chris A Paschke
For more articles on mounting basics look under the mounting section in Articles by Subject.
There is a special section in the library for all past IEA Framing Matters articles from Wax-On!

Additional information on all types of mounting is found in:
The Mounting and Laminating Handbook, Second Edition, 2002,
The Mounting And Laminating Handbook, Third Edition, 2008 and
Creative Mounting, Wrapping, And Laminating, 2000 will teach you everything you need to know about getting the most from your dry mount equipment and materials as an innovative frame designer.
All books are available from Designs Ink Publishing through this website.
Chris A Paschke, CPF GCF
Designs Ink
Designs Ink Publishing
785 Tucker Road, Suite G-183
Tehachapi, CA 93561
P 661-821-2188
chris@designsinkart.com