Paschke Online
Designs Ink Publishing Article Archive and Reference Library
Articles by Chris A. Paschke, CPF GCF
Picture Framing Magazine
"Synthetic Materials: Part 1 - Introduction"
February 2021
Modern day synthetic materials have become popular with crafters, textile, and mixed media artists serving both as substrate and art, and in turn are making their way into frame shops. Originally designed for short term use in the sign and marketing industries, synthetic materials include various grades of plastics including polyvinyl chloride (PVC), polystyrene, polyethylene, polypropylene and polyester/nylon and are known as durables, synthetics, or plastics, but are neither paper nor fabric.
Popular synthetic papers may be more familiar when referenced by their manufactured product names including: Tyvek®, Yupo®, Pixiss®, TerraSlate®, Evolon®, Lutradur®, Zeelon®, TerraSkin® and Mineral Paper®, but these are just the tip of the synthetic and microfiber iceberg.
Synthetic Paper
Synthetic papers do not absorb or react with other materials to create a new chemical reaction, rendering them stable and inert. These materials are all available online, through art supply chains, museum suppliers and such so samples are readily available for framers to test and familiarize with. Talas (photo 9 - optional)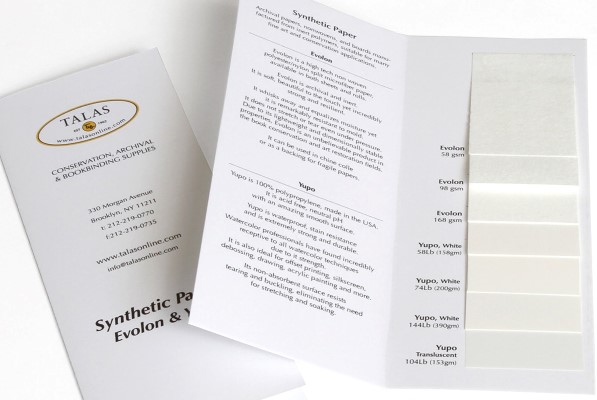 Photo 9
Tyvek is 100% polyethylene—spunbonded olefin—without the use of binders that may be sewn or glued and is used for weatherproofing, packaging, interleaving, drop cloths, and artwork. It is a synthetic that comes in white and black which may be painted, printed, stitched, and used as backing for frames. It is lightweight, flexible, smooth, particulate free, opaque, and resistant to water, rot, mildew, chemicals, abrasion, and aging. There are two types of Tyvek: Smooth Texture (Grade 10G) Tyvek paper a stiff non-directional substrate; and Soft Structure (Grade 14-M) Tyvek fabric has a waffle pattern is low-lint, opaque and may be sewn used for draping and cleanup suits. (photo 1)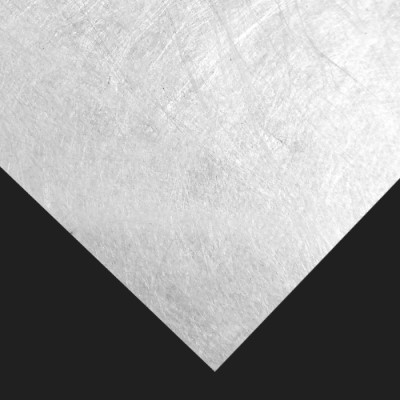 Photo 1
Yupo is a smooth, bright white, waterproof polypropylene that is non-porous, neutral pH, satin-coated material used for signage and art in translucent, medium and heavyweight that has become a unique and intriguing alternative to traditional art paper due to its strength and lifting properties. It has a silky sheen and holds ink well with lovely bright visual contrast, but since there is no saturation, waterbase mediums should be placed under glazing or fully sealed if displayed without glazing. Designed for print, packaging, labels, and adopted by artists for its unique qualities. Translucent Yupo produces less vibrant colors because of its lack of opacity, which may be subdued or lost when mounted to a darker substrate such as a wood panel. (photo 2)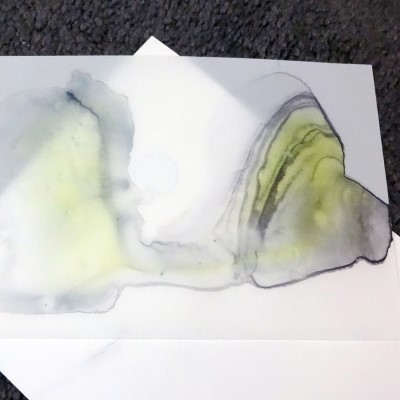 Photo 2
Pixiss is a 130gsm, 140# heavyweight 100% polypropylene synthetic art paper for watercolor, alcohol ink, acrylic paint, debossing, monoprint, silkscreen, oil pastel, pencil, and graphite that is smooth, neutral pH and very strong. Though comparable to Yupo they feel different to the touch and react uniquely to some mediums such as alcohol ink. (photo 3)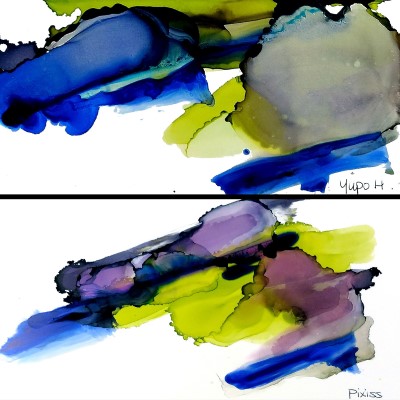 Photo 3
TerraSlate is a polyester synthetic designed for use on laser or digital printer/copiers in marketing of materials subject to frequent handling or extreme conditions—sometimes referred to as "waterproof laser printer paper." It is 100% tree-free and recyclable, tear resistant and waterproof; withstands rain, heat and temperature variations withstanding up to 450°F; and deters grease, solvents and chemicals. TerraSlate has recently joined the ranks of other synthetic papers favored for use with alcohol inks like Yupo.
Fiber Synthetic Paper
Depending on the product this paper is placed in the non-woven or unwoven fabrics category, but is accepted as a synthetic paper. It is characterized by its superior strength, softness and flexibility, but is not as smooth as Yupo and lower suitability for printing. It is more absorbent wicking moisture away from the surface immediately after application, resulting in spreading and bleed. (photo 4) Unlike paper, spunbonded materials may be washed, dyed, painted, stitched, burned, fused, melted, and cut to create innovative artistic effects.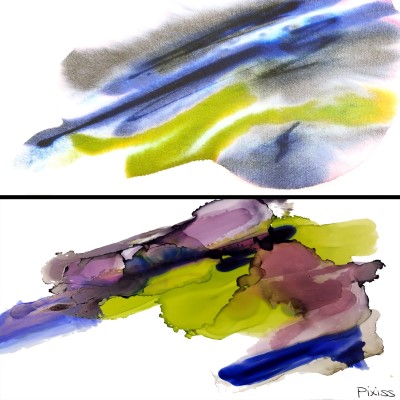 Photo 4
Evolon is synthetic microfilament fabric created with 70% polyester and 30% polyamide (nylon) making it soft and pliable with a suede-like texture. The polyester/nylon paper-like fabric is tear proof, lint-free and doesn't stretch or expand when wet, and is used for printing and painting. It is available in three classes: Evolon/Evolon Soft, Evolon AP and Evolon CR. Evolon AP® is archival, acid-free, wicks away and equalizes moisture while being mold resistant, available in 168gsm (photo 5)—lightweight watercolor paper weight—and 98gsm—sketch paper weight. Due to its lightweight stable properties it is favored for book conservation, art restoration, or used (as backing for fragile papers. It may be cut, sewn, glued, embroidered, dyed, painted, and distressed with soldering iron or heat gun, having a full melt point of 446°F. But since polyester is heat sensitive, high temperatures may cause it to melt, shrink, or deform.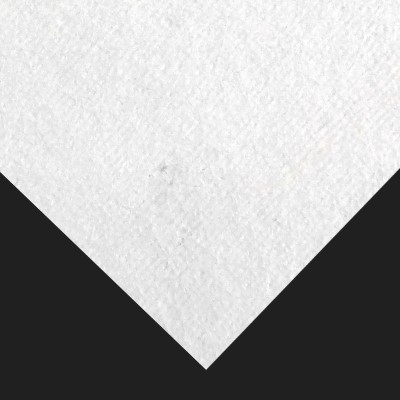 Photo 5
Evolon CR® is a non-woven microfilament textile of polyamide and polyester fibers has been developed for use in conservation and is well suited for use in preservation, wrapping, cleaning, and storage. Its dimensional stability, water permeability, wicking and fast drying capabilities recommend it as a wet or dry support for textiles and paper. It can also be used as an intermediate layer on suction tables is lint free, absorbent, fray resistant, and with no binders or fillers it can be washed at high temperatures, making it reusable. It can be washed at high temperatures and re-used when used for water soluble dirt. Use of Evolon CR resulted in less solvent used and mechanical action during the cleaning of paint surfaces. (photo 6)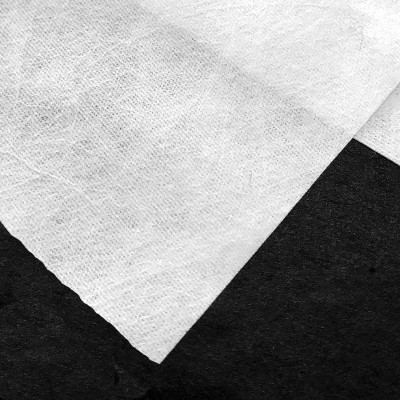 Photo 6
Lutradur (also known as Pellon®) is a spunbonded, 100% nonwoven polyester with coarser fibers than Evolon and Zeelon that absorbs both paint and ink for garments and mixed media art. Evolon is softer, drapes well, is less transparent and is more like fabric. Lutradur is stiffer, semi-transparent, with little or no drape and is more like interfacing. It is acid-free, tear-resistant and may be sewn, painted, pleated, dyed, die-cut, folded, woven, and run through inkjet printer if pre-treated with a thin coat of matte gel medium. Available in 30gm light, 70gm medium and 100gm heavyweight, 130gm extra heavy, it is strong, does not fray or unravel, and has been used as reinforcement in the creation of garments and framing. (photo 7)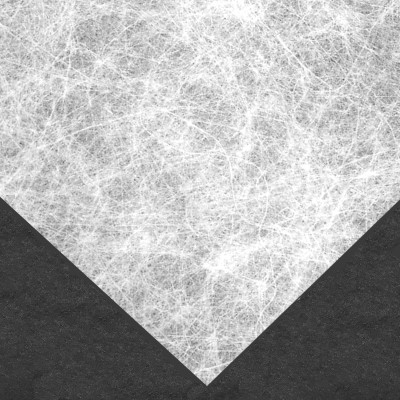 Photo 7
Zeelon is made of white nylon fibers available as in light, medium and heavy weights. Lutradur light has a slight stiffness to it while Zeelon light is like a strong cobweb. The heavyweight is soft, but crisp and still has the transparency that Lutradur is known for. Zeelon 13oz was developed as an economical, medium weight, inkjet banner material for solvent, eco-solvent, UV, and latex printing. It has superior ink adhesion, is latex free, tear and fade resistant. It may be glued, sprayed, painted, dyed, sewn, embroidered, distressed, and printed, making it favored by artists.
Stone Paper
In the late of 1990s new papermaking technologies called rock paper—also known as limestone paper and stone paper— were developed by Lung Meng Technology Co, in Taiwan. Over 40 countries have patents on this type of paper and products have been marketed under various trade names, including TerraSkin, Mitz Stonepaper, Mineral Paper, Rockstock, and Nu Stone. Stone paper is a bio-plastic mineral paper of strong and durable paper-like material consisting of 3 components: calcium carbonate, high-density polyethylene (HDPE) non-toxic resin, and a proprietary coating developed by each individual manufacturer to enhance printing quality and performance for specific applications.
TerraSkin is a tree-free, non-paper polyethylene resin coated product made of >75% calcium carbonate and <25% HDPE is an opaque, creamy white, pliable and supple sheet, that is susceptible to handling creases, and degradation may occur in the presence of heat and/or UV radiation. It is waterproof, tear resistant, grease resistant, mold resistant and acid-free used for packaging, printing and art. It is made from natural minerals, requiring no water, no chemicals and is totally recyclable. It uses 20-30% less ink than paper with no pulp fibers that absorb ink and is suitable for regular ink, vegetable/soy based ink, and alcohol ink. It scores, cuts, glues, embosses, punches, hot-stamps, varnishes and laminates well. (photo 8)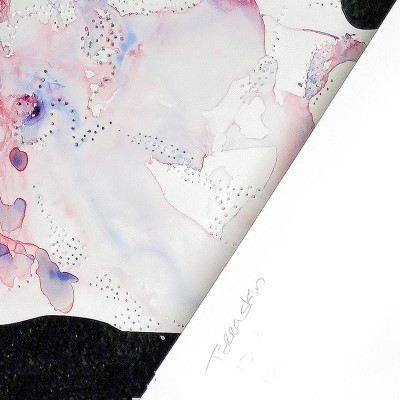 Photo 8
Mineral Paper by Yasutomo, similarly water-resistant with a smooth finish like Yupo, but with 80% calcium carbonate and 20% HDPE is more comparable to TerraSkin for its workability, tooth and absorption. Its bright white, vellum-like surface allows for crisp lines for use with both wet and dry mediums including ink, paint, pencil, pastel, pen and marker. Tear and water resistant, it does not bleed and may be inkjet printed.
Mounting Demands
It should be understood that original textiles are usually mounted using preservation methods such as sewing, lacing, Velcro attachments, or other means of non-invasive mounting. But today's synthetic papers and stone papers may be both the substrate and/or part of the art. Since Yupo was originated for large signage it is available in an array of weights and rolls for large scale printing, which artists love. Yupo artists often expect their completed originals to be smoothly mounted to a rigid backing like a cradled box or hardboard topped with Dibond or Sintra after creation which generally requires a wide format, high tack pressure sensitive PSA and roller machine.
Evolon and Lutradur are soft, strong, flexible, manmade spunbonded fabric-like synthetics ideal for textile art. Stay tuned for when "Synthetic Materials: Part 2-Presentation" will cover more about mounting, teat tolerances and framing of fiber synthetic papers.
END
Copyright © 2020 Chris A Paschke
Additional Reading
PFM, Mastering Mounting, "Yupo & Other Synthetic Papers - P1", November 2015.
PFM, Mastering Mounting, "Mounting Synthetic Papers - P2", January 2016.
Burns, Carolyn. Characterization of Four Modern Papers,
https://artconservation.buffalostate.edu/sites/artconservation.buffalostate.edu/files/uploads/burns-AICposter-FINAL.pdf
Cotterill, Wendy. Spunbonded Textile & Stitch–Lutradur, Evolon, and other distressables
Vergeer, Michelle. EvolonⓇ CR microfibre cloth as a tool for varnish removal
http://vergeerschilderijenrestauratie.nl/static/img/Evolon-CR-microfibre-cloth-as-a-tool-for-varnish-removal.pdf
Resources—Items
https://usingeverythingsimple.wordpress.com/2020/05/26/alcohol-ink-synthetic-paper/
http://www.terraskin.org/—TerraSkin
https://www.yupousa.com/—Yupo
https://www.talasonline.com/Dupont-Tyvek—Tyvek Smooth Texture & Soft Structure
https://www.talasonline.com/Evolon-CR-Non-Woven-Textile—Evolon, Evolon CR, Evolon AR, Sampler Book
https://www.dickblick.com—Evolon, Yasutomo Mineral Paper, TerraSkin
https://www.thethreadstudio.com/catalogue/fab/fab9.htm—Evolon, Lutradur, Zeelon
https://www.spunart.co.uk/faq/—Evolon, Lutradur, Zeelon
For more articles on mounting basics look under the mounting section in Articles by Subject.
Additional information on all types of mounting is found in:
The Mounting and Laminating Handbook, Second Edition, 2002,
The Mounting And Laminating Handbook, Third Edition, 2008 and
Creative Mounting, Wrapping, And Laminating, 2000 will teach you everything you need to know about getting the most from your dry mount equipment and materials as an innovative frame designer.
All books are available from Designs Ink Publishing through this website.
Chris A Paschke, CPF GCF
Designs Ink
Designs Ink Publishing
785 Tucker Road, Suite G-183
Tehachapi, CA 93561
P 661-821-2188
chris@designsinkart.com