Paschke Online
Designs Ink Publishing Article Archive and Reference Library
Articles by Chris A. Paschke, CPF GCF
"High Gloss Digital vs. Cibachrome"
June 2018
Framers are tasked to care for a great many things: memorabilia, vintage art, and photographs of all types; therefore they need to be knowledgeable of photo images, processes and media both past and present. Cibachromes (Ilfochrome Classic) dominated the world of high gloss in their day, but digitals have now replaced the glass-like finish of the Ilfochrome. In less than a decade, digital technology changed everything about art and photographs, and when new technology morphs into an existing one, replacing the familiar, there are always sacrifices. Ilfochrome occupied a unique place in analog photography as the only process for producing photographic prints directly from color transparency film.
A Little History
The Cibachrome process was created by Ciba AG, Switzerland in joint cooperation with Ilford during the early 1960s to develop Ciba's dye-bleach print material for making prints directly from color transparencies. In 1970 Ciba merged with JR Geigy to become Ciba-Geigy and in 1989, Ciba-Geigy sold Ilford to International Paper. Since Ciba-Geigy, no longer had any stake in Cibachrome the name was officially changed to Ilfochrome Classic in early 1992. Beginning in 2005, after additional company buyouts and attempts to continue After 40 years, the paper was discontinued in September 2011 and there are only about five full-time practitioners in North America of the Ilfochrome process.
Cibachrome results were incomparable then, and remain so today. Known for their icy, glass-like appearance and color vibrancy the surface is extremely sensitive to scratching and moisture. The Ilfochrome Classic technology produced prints as Cibachrome RC Matte; Cibachrome RC Gloss; and Ilfochrome Classic—only the Ilfochrome Classic is printed to 100% polyester film. (photo 1) RC photos are resin coated paper on either side of a base paper core allowing it to be split at the edges, while polyester film has no paper content and cannot be split (photo 2).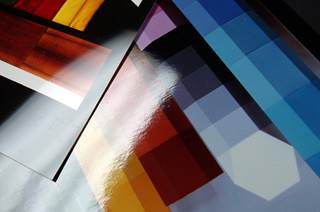 Photo 1: Cibachrome Developing—Renamed Ilfochrome Classic in 1992.
Ilfochrome Classic (L) has a glass-like smooth finish; Cibachrome RC Gloss (R) has the same crisp image and bright colors but is printed to resin-coated paper.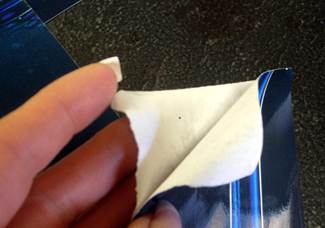 Photo 2
A Cibachrome is printed to 100% polyester media which cannot be split into layers while an RC (resin-coated) photo using the same developing process is printed to paper and can be split.
Azo Process
Resin coated photos are printed to paper base from a film negative while Cibachromes are a positive image from slide film to a positive print on opaque white polyester film, more accurately known as a dye destruction positive-to-positive photographic process. They were most frequently used commercially for the reproduction of film transparencies on dimensionally stable polyester photographic media, but the images were so breathtaking photographer fell in love with them.
There are thirteen layers of azo dyes in the emulsion of the Melinex polyester base rather than in the developing chemistry (for RC) resulting in an image that is sharper and clearer because the dyes create an anti-light-scattering layer which keeps the image from being diffused when viewed. Azo dyes are far more stable than chromogenic dyes, so prints made using this process were of archival quality, do not fade, discolor, or deteriorate over extended time.
Alternative Media
Today options are limited as there are no real substitutes for the visual impact achieved by an Ilfochrome and it's all about the media. According to professional photographers there are a few currently favored alternatives: first is a high gloss metal print; second is facemounted acrylic; third is the polyester media Pictorico Pro Hi-Gloss White Film for Inkjet Printing; and fourth a high quality metallic paper print—like Breathing Color Vibrance Metallic. The metal print and facemount are totally separate techniques that may only be compared to Ilfochrome by the look and not the process. The white polyester film and metallic paper are merely high gloss media for digital printing that give the illusion of a cibachrome.
Fuji developed their digital version of Ilfochrome as Fujiflex, where a digital image is printed to polyester film resulting in the familiar appearance (photo 3). Fujiflex film is thinner than the Ilfochrome Classic polyester film and has a bit of a pearl sheen to the verso side of the media making it easier to identify. Fuji also offers their Fujiflex as an RC version both matte and gloss finish.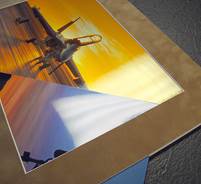 Photo 3
These are high gloss Fujiflex photos. There is slight visible orange peel increase in the mounted image (top), lower photo is an unmounted comparison.
Fujiflex Crystal Archive Printing Material is a white polyester base material for use with conventional and laser printers, producing rich image color, pure whites, and razor-sharp letters with exceptional surface gloss and flatness.
Ilford has produced a number of alternative media in an attempt to fill the Ilfochrome void for printing to polyester, metal and wood. OMNIJET Glossy Bright White Film is a high performance inkjet alternative to the ILFOCHROMEand ILFOFLEXproducts. This polyester based, premium quality photographic white film is compatible with piezo and thermal wide format inkjet using dye, pigment and latex ink. The finished image can be mounted to aluminum for super glossy, photographic images similar to traditional Ilfochrome.
Metal Prints
Metal Prints are a relatively new art medium for photos on 100% aluminum sheets that are waterproof and UV resistant. Images are transferred using a dye sublimation process infusing dyes directly into specially coated aluminum sheets making the image a permanent part of the aluminum sheet, not simply printed into it. Finishes include high gloss, satin, and matte on opaque white and clear metal plates. (photo 4)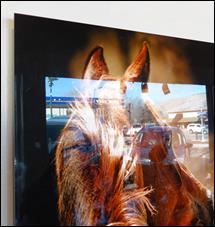 Photo 4
This ChromaLuxe high gloss finish, high res photo created on metal for artist Anita Jesse, Tehachapi CA clearly illustrates the full reflection quality from the opposite exterior windows.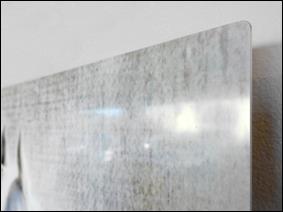 Photo 5
Panels are 1.5mm with a coating that produces durable, vibrant color and depth for longevity, fade resistance. Unframed plate display methods include magnet, easel, block, lifter, and standoffs.
Ilford offers two forms of metal print media: Platinum Super Gloss and Platinum Matt White metal panels which are 1.5mm thick with a coating that produces durable, vibrant color and depth for longevity and fade resistance. (photo 5) High gloss finishes maintain the smooth clarity, crispness and glass-like finish of an original Ilfochrome. When printed with Satin or Sheer Matte finish, images have greatly reduced glare and resist fingerprints but are no longer reminiscent of the high gloss of a cibachrome. (photo 6)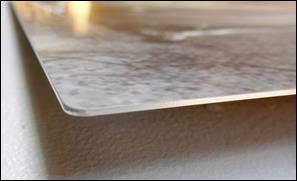 Photo 6
A matte finish high res photo applied to a metal plate with a dye sublimation process supported by a metal lifter floating off the wall.
When printed with Satin or Sheer Matte finish, images have greatly reduced glare.
Metal Plate vs. Facemount
The metal print is a high resolution print using archival inks on a dye sublimation printer resulting in a rich, luminous, iridescent appearance, which is heat fused into a coated aluminum sheet such as ChromaLuxeTM or Ilford metal plate as mentioned above. Like Ilford, ChromaLuxe High Definition Metal Plates produce a smooth, scratch, water and UV resistant high gloss print on thin, contemporary media.
Facemounting is an RC or polyester printed image P-S (pressure sensitive) mounted to the verso side of clear acrylic with a special optically clear pressure-sensitive adhesive like Drytac FacemountTM or D&K Optically Clear—using cold wide format rollers. Since facemounted presentations are often floated off the wall with no additional frame they are often backed with a sheet of Sintra or acrylic for additional protection.
For greater image enhancement the photos printed for facemounting are frequently printed to a metallic RC paper—such as Epson Metallic Photo, Ilford GALERIE Prestige Metallic Gloss, or Fujicolor Crystal Archive Digital Pearl Paper. The Ilford paper has an iridium (a hard, dense, silver-white metal) finish giving a three-dimensional look and is compatible with both dye and pigment inkjet printers. Fuji PEARL uses pearly mica crystals covered with a thin layer of metal oxides giving silver halide color prints a pearl-metallic luster giving the effect of a silver-white metallic reflection. All metallic papers greatly enhance a facemounted image by increasing sharpness, detail, and when printed at higher resolutions, almost the look of a cibachrome.
Mounting Options
Common display methods for metal prints include magnet, easel, block, metal lifter and standoffs though mounting methods offer different degrees of support and hanging stability. Magnets are a great solution if the plate is unglazed and may be realigned if shifted during transport, but probably should not be considered if the plate cannot be adjusted after shipping to its destination. Remember magnets may be strong enough to hold, but can slip.
Fujiflex must be delicately handled to maintain the dignity of its high gloss image with hinging being a possible option. It has been standard practice to mount traditional fiber-base and RC photos over the years, and it remains the usual practice even with today's thinner digital papers, but there are additional issues associated with digital photo papers. Printed surfaces may be prone to surface scratching and mottling of the emulsion with mounting temperatures over 130ºF, so proper mounting materials and technique is mandatory.
Static Mounting
Traditional polyester Ilfochrome Classics will not physically melt until reaching the 300°F range so they are safe to dry mount with any industry adhesive, but there will always be a degree of orange peel showing even at very low temperature settings. Static mounting is by far the very best method to mount 100% polyester film photos by allowing the natural static to support the photo. Static mounting is a total preservation method that is reversible and maintains the glass-like smoothness of the original image never showing any orange peel.
Cut a sheet of acrylic the full outside dimension of the window mat and backing; score and remove the paper liner on the acrylic about 1/64"—barely larger than the photo—and remove the paper liner allowing the static to be created. Position the photo inside the removed paper like a tiny sink mount; book hinge the window mat with a full ¼" window overlap; and close the window. Since polyester will never absorb P-S adhesive you may add a V-flange hinge under the top edge attached to the acrylic. (photo 7) The hinge will support larger Cibachromes while the static also prevents them from buckling forward into the window.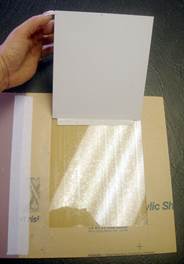 Photo 7
Note: Additional instructions with photos are available on the Static Mounting technique in The Mounting And Laminating Handbook, 3rd Edition (from PFM Bookstore) and copies of PFM articles on http://designsinkart.com/articles-subject.htm under "Mounting" or "Photographs."
21st Century Framing
Photographers that reveled in the glory days of cibachrome continue to lament the loss of azo dye on white polyester, but are trying hard to embrace the new concepts of the 21st century. Ilfochrome Classics may be gone—but shall never be forgotten. Framers may encounter a rare vintage Ilfochrome Classic but it is more likely the high gloss imagery of this era will be all about the media so be prepared to embrace metal prints, facemounting and metallic papers.
END
Copyright © 2018 Chris A Paschke
Resources—Items
http://chromaluxe.com—ChromaLuxe panels for metal prints
http://dkgroup.com—Optically Clear Mounting Adhesive
http://drytac.com—Facemount
http://ilford.com—Ilford GALERIE, Omnijet, Ilfochrome media
http://ilford.com/products/photo-inkjet/ilfochrome—Platinum Super Gloss/Matt White metal plates
http://fujifilmusa.com—Fujiflex, Fuji PEARL
https://epson.com—Epson Metallic Papers
For more articles on mounting basics look under the mounting section in Articles by Subject.
Additional information on all types of mounting is found in:
The Mounting and Laminating Handbook, Second Edition, 2002,
The Mounting And Laminating Handbook, Third Edition, 2008 and
Creative Mounting, Wrapping, And Laminating, 2000 will teach you everything you need to know about getting the most from your dry mount equipment and materials as an innovative frame designer.
Bibliography
Epson Metallic Papers, https://epson.com/For-Work/Paper/Pro-Imaging/Metallic-Photo-Paper-Glossy/m/S045589
Fuji Crystal Archive Media http://www.fujifilmusa.com/products/photofinishing/paper_lab_products/color_papers_printing_materials/fujiflex_printing_material/
Fujicolor Crystal Archive Digital Pearl Paper http://www.fujifilmusa.com/products/photofinishing/paper_lab_products/color_papers_printing_materials/digital_pearl_paper/
Ilford ILFOCHROME Platinum Super Gloss http://ilford.com/products/photo-inkjet/ilfochrome
Ilford OMNIJET Glossy Bright White Film, http://ilford.com/products/omnijet/glossy-white-film-215gsm
Ilford GALERIE Prestige Metallic Gloss, http://ilford.com/products/galerie-prestige/metallic-gloss-260gsm
Talbert, Michael, "Cibachrome", https://www.photomemorabilia.co.uk/Ilford/Cibachrome.html

Wikipedia, "Ilfochrome", https://en.wikipedia.org/wiki/Ilfochrome
All books are available from Designs Ink Publishing through this website.
Chris A Paschke, CPF GCF
Designs Ink
Designs Ink Publishing
785 Tucker Road, Suite G-183
Tehachapi, CA 93561
P 661-821-2188
chris@designsinkart.com