Paschke Online
Designs Ink Publishing Article Archive and Reference Library
Articles by Chris A. Paschke, CPF GCF
"Silk Paintings: Design & Mount"
February 2018
Asian silk paintings may be high prices antiques; inexpensive, unmounted tourist treasures; or they might be family memorabilia brought back from WWII, as are the samples in this article.
The history of silk production and trading in Asia traces back thousands of years, across the continent West to India, and farther East into Japan. China has been credited with the development of silk worm farms, silk fabric production, silk embroidery, and both calligraphy and painting on silk for centuries. By 1979 the two oldest silk paintings to date had been found in the tombs at Changsha, Hunan dating from the late Warring States Period (circa 220BC), during the Han Dynasty. Japanese-style paintings have evolved for over one thousand years, while the actual painting technique of mixing natural mineral pigments with animal glue—made from animal bones or skins—has remained relatively unchanged.
Linings
Other than street art, the most prevalent formats for Asian paintings are hanging scrolls and folded screens. As part of the presentation process, paintings on mulberry paper and silk are lined with support layers for reinforcement during their transformation into scrolls and screens. One of the common characteristics of Asian paintings is the possibility of format transformation during its lifetime such as a handscroll into hanging scroll or screen and sometimes back to a handscroll. The color of a paper lining greatly impacts the appearance of the finished painting as a light colored backing can brighten painting colors or wash out the painting, and a dark backing can either enrich or dull the colors.
Silk naturally darkens with age and when a painting is repaired or remounted the lining color may be changed to help brighten the colors and better showcase the painting. The presentation and integrity of a painting is totally dependent on its choice of format—handscroll, wall scroll, screen—and the mounting. The preservation and treatment of striping and remounting a scroll should be left to the special skills of a qualified conservator and never be something an untrained framer should attempt, but understanding the concepts of scrolls and paintings is something they should understand.
When sheer unlined paintings are to be framed using Western techniques controlling ghosting and color bleed become very important to presentation. Ghosting is the visual interference of colors or images bleeding through from behind impacting the visual nature of framed art. (photo 1) This is most common with two-sided magazine and newspaper pages but is also a possible issue with sheer silk paintings. Color bleed is when a light or dark background color washes out, or enhances, painted colors.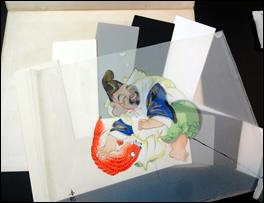 Photo 1
Paintings are on natural silk—vintage 1940. The two front images were still in their original paper window folders that showed acid burn.
Silk project shown courtesy of Gwen Strahan, Redding CA.
Traditionally, Asian paintings on paper and silk are backed with heavier warm white kozo paper and starch paste—as would be done in preparation for a scroll mount—but since the silk paintings in this article were not kozo backed and quite sheer they needed a colored backing to prevent the colors from changing or any stark white from foam board or polyester padding showing. (photo 2)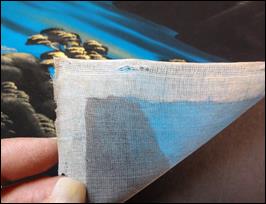 Photo 2
The paintings had not been backed yet and though the colors are bright there was a translucency to them that required a colored backing to best maintain their intended color.
Silk Project
Doc was a transport pilot in WWII and Korea flying B-57s. When he retired from the military he had acquired four 1940s vintage Asian silk paintings that have been in storage until this year. They had been kept in folded glassine and two of them were still in their original narrow 1" wide paper window folders which had acid burned two of them. The paintings had even ghosted their painted images onto the backing of the folders and any overlapped edges showed color shift. (photo 3)
Photo 3
A darker background support better camouflages thin and flaky paint while also intensifying the colors.
All were completed by different artists—as determined by their chops—and the silk of three was still in good shape, but the paint from one that had been in a paper folder was beginning to flake. (photo 4)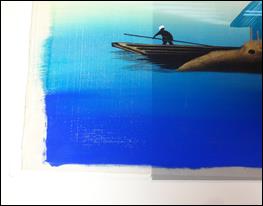 Photo 4
Fisherman was painted on extremely sheer silk and all colors appeared washed out on light backing, while dark backing darkened the art.
Three of the four had been painted with intense bold colors but Fisherman was painted on extremely sheer silk with very little color and all appeared washed out when placed over a light backing, while dark backing grayed the image making the skin tones look unnatural.
It was decided to use colored felt padding rather white fiberfill or smooth board for color control and to provide added tooth for the silk to help prevent shifting or static lifting into the window. Gray polyester felt was selected for two and warm cream for two. (photo 5)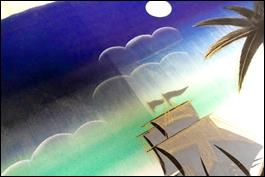 Photo 5
Two of the paintings required a middle gray felt because the lighter warm cream washed out the colors.
Mounting Options
There are two relatively nonaggressive methods for holding silk and sheer fabrics: Fit Mount (aka Tight Fit) and Newberry Method. The fit mount is perfect for items that cannot, or should not, be pinned and uses a ³⁄₁₆" AF foamboard with a blunt cut window. Fabric is placed face down on the back of the foam window, properly aligned, then the fallout is snuggly fitted back into the window trapping the edges of the sheer fabric between it. The edges may then me gently pulled from the back side to straighten or adjust as needed.
The Newberry Method is similar to Fit Mount using a ³⁄₁₆" AF foamboard blank blunt cut opening as a window, but the sheer fabric edges are pinned into the foamboard along the outer edges using size 17, 1¹⁄₁₆" long, .55mm thin stainless steel ball point pins—sometimes called Bridal and Lace pins—prior to refitting it into the support window. Both the Tight Fit and the Newberry Method are illustrated in Needlework Framing Volume 3, by Vivian C. Kistler and PPFA Guidelines for Framing Textiles on Needlework, both available from PPFA Bookstore.
These four paintings all had slight creases in them that with a soft support and pinning could be smoothed, so Newberry was the technique selected. This also allows for gentle wrapping around a blunt cut ³⁄₁₆" acid free foamboard fallout rather than a more aggressive textile stretch with lacing or stapling.
Pin Mount Step-by-Step
A foamboard is sized to the proper finished outside dimensions of the project and a fallout is blunt cut with the exact window size for the wrap. Felt is trimmed to the exact size of the fallout so there is no overlap or bulk for the wrap. The silk is larger and will wrap around the fallout. (photo 6) The paintings each had ½" to ¾" of unpainted exterior trim for the wrap.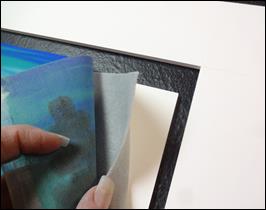 Photo 6
The felt is trimmed to the exact size of the fallout so there is no overlap or bulk for the wrap. Though not illustrated as such in this photo the silk is ½" to ¾" larger to wrap around the fallout.
These are small paintings at approximately 16 x 14" so pinning was able to be done face up to avoid abrasion or damage. Even though the silks are not pulled aggressively during pinning, a gentle tension is used to pull it around the edge and pinned into the side of the fallout. Use the same process as stapling a canvas working from the center of all four sides to the corners placing the pins no more than 1" apart; the closer the pins the more even the tension on the silk. (photo 7) The pins should not be totally pressed into the fallout until the entire silk has been pinned and alignment has been verified. Depress the heads flush with the edge of the foam so the window support will more smoothly fit over the pinned fallout. (photo 8)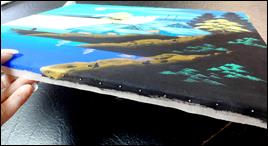 Photo 7
Size 17, 1¹⁄₁₆"" long, .55mm thin, stainless steel, ball point, Bridal and Lace pins are placed about 1" apart.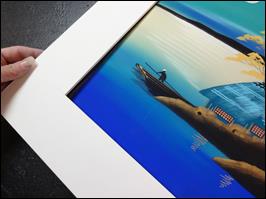 Photo 8
Depress the heads flush with the edge of the foam so the window will more smoothly fit over the pinned fallout.
Support Options
Excess silk on the back should be pinned or secured to prevent movement. Also the fallout and window foam should be secured to help hold them together. (photo 9) Rather than pinning the back flaps of silk a modified edge strip was created with 1½" strips of 100% cotton fiber, neutral pH, 64 lb text Strathmore's 500 Series Charcoal Paper. Heavyweight Japanese mulberry paper could also be used.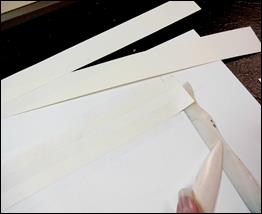 Photo 9
The painting is face down on a piece of glassine to protection. Excess silk selvage should be pinned or secured to prevent movement. Also the fallout and window foam should be pinned to help hold them together.
Strips are layered over the silk selvage and held in place with strong acid free, eco-friendly LinecoAbaca.SA Hinging Tape. The tape is applied to both sides of the rag paper so one edge is burnished to the fallout and one is burnished to the window support, never touching the silk. (photo 10) This technique also helps hold the pieces together rather than pinning them.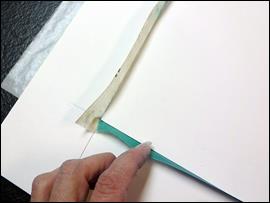 Photo 10
Strips of 1½", 100% cotton, neutral pH, 64# Strathmore Charcoal paper were placed around supported by Lineco® Abaca.SA Hinging Tape. The tape is burnished to the fallout and the window support only.
A additional 4-ply backer board needs to be added for support and to protect the finished pinning, and an additional ⅛" overlap should be added to the front window mat package to help support the edges of the silk.
Final Thoughts
Standard preservation practices for all textiles, no matter the value, should always include wearing cotton gloves when handling; avoid lying the art face down, unless absolutely necessary then always on a protected surface; and carefully inspecting it with your client for previous repairs or restorations when filling out a condition report.
Asian paintings can survive for centuries, but are susceptible to damage from careless handling, humidity, light exposure and insects. In dry air the silk becomes brittle and cracks, and the paint crumbles or flakes away; but if the air is humid and moist, mold can attack the painting. Overexposure to light darkens both silk and paper, and can break down the animal protein in silk fibers. For these reasons, East Asian paintings are not designed to be permanently on display and in both China and Japan, paintings are brought out for enjoyment seasonally or on special occasions. What this actually means to us is that framing valuable and/or sentimental silk paintings in our Western tradition of long term display may not be in the best interest of the art.
END
Copyright © 2018 Chris A Paschke
Resources—Items
http://ppfa.com—Needlework books
http://strathmore.com—Charcoal paper
https://legionpaper.com—Strathmore paper-cover weight, Japanese paper
http://lineco.com—Abaca.SA Hinging Tape
For more articles on mounting basics look under the mounting section in Articles by Subject.
Additional information on all types of mounting is found in:
The Mounting and Laminating Handbook, Second Edition, 2002,
The Mounting And Laminating Handbook, Third Edition, 2008 and
Creative Mounting, Wrapping, And Laminating, 2000 will teach you everything you need to know about getting the most from your dry mount equipment and materials as an innovative frame designer.
All books are available from Designs Ink Publishing through this website.
Chris A Paschke, CPF GCF
Designs Ink
Designs Ink Publishing
785 Tucker Road, Suite G-183
Tehachapi, CA 93561
P 661-821-2188
chris@designsinkart.com