Paschke Online
Designs Ink Publishing Article Archive and Reference Library
Articles by Chris A. Paschke, CPF GCF
The Artists Magazine
"Framing Hardware Basics"
March/April 2014
Hardware isn't exciting, but selecting the correct hardware is necessary for safe display of all beautiful framed art. And understanding the function and limitations of familiar hardware such as sawtooth hangers, screweyes, spring clips and wire will ensure your painting is protected for generations.
Screws
The weight—or gauge—of a screw is based on shaft dimensions and threading. To simplify identification of smaller, more commonly used screws use in the hardware market, a number designation preceded by the # sign has been adopted with #0 the smallest and #15 the largest. In framing #4, #6 and #8 are most commonly used. Wood screws have a coarser pitch (fewer threads per inch) than sheet metal screws, and often have an unthreaded shank just below the head. The threadless shank allows the top piece of wood to be pulled flush against the under piece without getting caught on the threads. They are available with flat, pan or oval-heads. Metal screws have sharp threads that cut into a material such as sheet metal, plastic or wood. They make excellent fasteners for attaching metal hardware to wood because the fully threaded shaft provides good retention in wood (photo 1).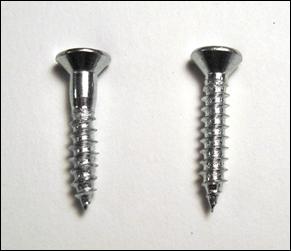 Photo 1
Wood screws (L) have an unthreaded shank just below the head. Metal screws are threaded tip to head.
There are many head styles with flat head, pan head, and round head being most common for framing. Flat head screws are chosen when countersinking so the head is flush with the wood surface leaving nothing protruding (photo 2). Round head screws have a domed shape, while pan head screws have a slightly rounded head with short vertical sides making either style suitable for D-rings, D-straps and steel plate hangers. There are many drive configurations but straight slotted, Phillips, and combination are shown. The Philips design has a self-centering property, which became extremely useful on automated production lines that used automated screwdrivers. The combination drive—aka cross slot—was originally designed for versatility during installation by either straight or Phillips screwdriver.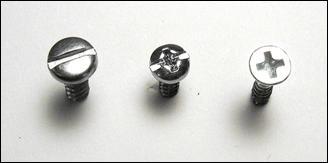 Photo 2
(L to R) Straight slotted drive, pan head, combination drive, pan head, and Phillips drive, flat head.
Sawtooth Hangers
The sawtooth hanger is a jagged edged metal strip, from 1-2" long that resembles a saw edge (photo 3). They are universally popular because of simplicity and ease of installation but have a high failure rate. This is not the result of weakness of the metal strip but rather the softness of the moulding and fastener. Most sawtooth hardware comes with short ⅜" to ½" tacks that press into a painted panel or frame. If the wood is soft—such as pine—nails can fail by pulling out of the frame due to weight and gravity. Substituting small #3 screws for the supplied tacks will improve holding strength.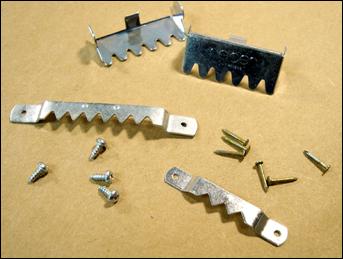 Photo 3a
Snap-in for metal frames (top); long and short for wood frames with tacks, not advisable for framing fine art.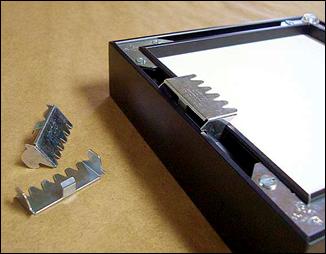 Photo 3b
There are also sawtooth hangers developed for specific uses including Canvas Hangers and Flush Mount Sawtooth for stretched canvases. There are also snap-in sawtooth designed for use with metal frames that are very strong and once properly inserted cannot fall out, so they are quite dependable. It is important to point out that galleries generally do not accept framed art using sawtooth hangers of any kind because of hanging system restrictions and the potential of framed art being knocked from the wall.
Screweyes
A screw with a looped head and screw shank is called an eye screw, eye hook, screw eye or screweye. They are designed to be used as an all-in-one piece of hardware which screws into the back of a frame for attaching wire, and they are probably the most popular, yet least effective hardware after the sawtooth. When installing screweyes into hardwoods such as maple, oak or walnut, stresses occur at the transition point where the screw meets the eye which weakens it (photo 4). If too small an eye has been selected for too hard a wood the eye has been known to twist off from the inserted screw. In soft woods such as pine or reconstituted wood such as MDF—medium density fiberboard—the threading can create sawdust rather than grabbing the wood grain as it is inserted which allows for the screw to pull out.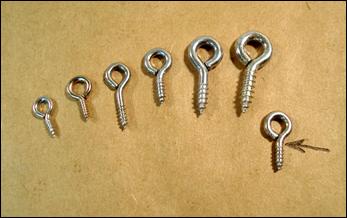 Photo 4
The eye is only as strong as the neck between the threads and the loop. Hanging hardware is only as strong as its weakest link.
Other drawbacks to screweyes include use of an eye strong enough to hold most standard frames forces the frame away from the wall; leaves a mark where it contacts the wall; and if the eye is placed too close to the exterior edge of the frame may by visually unpleasing. Screweyes also greatly stress the sides of the frame where they are inserted, weakening the wood on thin or narrow frames and can easily split dry wood if not predrilled. The logical replacement is an appropriate D-ring.
D-Rings and Strap Hangers
Heavy duty D-rings can be used with or without picture wire and are intended for hanging mirrors, heavy wood frames, gallery wraps or cradled boxes (photo 5). Strap hangers are constructed of doubled steel using #6 x ½" screws for small 2-hole strap, medium 2-hole strap or medium 4-hole strap hangers, and #8 x ⅝" for large 3-hole heavy metal strap hangers. If hung without wire they are aligned vertically at the upper corners on the back of the frame and suspended directly on substantial picture hooks or screws anchored into the wall.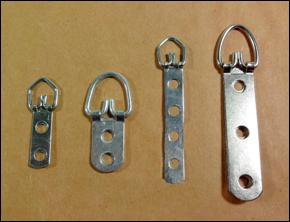 Photo 5
Small narrow base 2"x⅝", small wide base 2"x1", medium narrow base 3¼"x⅝" and large wide base 3¾"x1" heavy strap hangers.
Steel Plate Hangers
Super Steel Hangers are available as 2-hole and 4-hole styles having the screw holes located both above and below the ring for attaching the wire (photo 6). The 4-Hole Super Steel Hanger is 3½" long, ¼" wide for heavy art and supports up to 100 lbs. The shorter 2-Hole Super Steel Hanger is 2" long, ¼" wide for art up to 50 lbs. They are designed to be mounted vertically 1/4 to ⅓ down from the top edge of the frame, either centered on a narrow moulding or about ½" from the inner edge of a wider moulding. They may be used with #4 or #6 screws in varying lengths appropriate for the moulding. The longer 4-hole version has staggered holes to dissipate the stress of the wood, reduces hardwood splitting, plus multiple screws increases screw security with MDF or soft wood.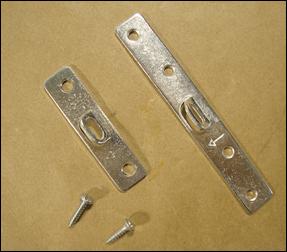 Photo 6
Super Steel Hangers 2-hole (L) and staggered 4-hole.
Wire
Selecting the correct wire to support your frame is every bit as important as using the right hardware. Picture frame wire comes in many different types and weights (photo 7). There is multi-strand braided galvanized steel, twisted stainless steel, stainless plastic coated and copper plastic coated. Galvanized is the most frequently used, but least effective. Plastic coated stainless will not mar walls, hurt hands during installation, rust or discolor. Coated copper is softer and easier to work with but does not have the strength of stainless steel.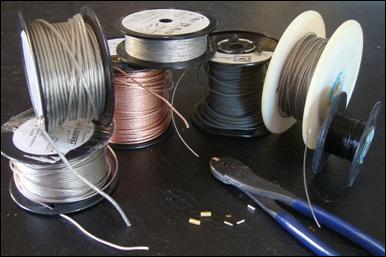 Photo 7
Small narrow base 2"x⅝", small wide base 2"x1", medium narrow base 3¼"x⅝" and large wide base 3¾"x1" heavy strap hangers.
As braided interwoven galvanized steel wire diameter increases the strands remain constant in size but additional strands are added to the braid. A #2 braided wire has 12 strands while a #8 braided has 36 strands. In contrast, all stainless steel wire contains seven strands that have been tension twisted like a cable, and as the wire gets larger the strands increase in diameter. This makes twisted wires comparatively stronger than braided, but also less flexible.
When selecting the correct weight wire for your painting it will vary depending upon the type of wire selected. The break strength of a galvanized wire should be four times the weight of the frame, while the break strength of a coated stainless is three times the frame. A 10 pound painting requires a 30 pound maximum weight stainless wire, but a 40 pound galvanized braided wire.
A #3 braided wire has a maximum capacity of 16 pounds while a #3 stainless steel picture wire has a maximum strength of 20 pounds. Though a #3 braided and #3 stainless have the same break point at 68# the cabled stainless wire can handle a heavier painting. The larger/heavier the wire the more the variance between braided and cabled structure. A #8 braided is rated at 36 pounds with a 145# break point, while #8 stainless is 60 pounds with 170# break point. Note the softer coated copper has a break strength of 170 pounds, but a maximum frame weight of only 40 pounds.

An artist will most likely require 2-3 different wire weights to accommodate all their hanging needs. Most likely a coated stainless steel wire would be your best choice, and probably #3 and #5 will handle most all your demands. Keep in mind it is better to select a wire too heavy than too light.
Offset Clips
This z-shaped hardware is also referred to as an offset, canvas offset, offset mounting clip, z-clip, or frame clip and has a zinc plated stair-step shape with rounded corners designed to affix various levels of stacked frames, liners or to install deep paintings. Clips are available as ⅛", ¼", ⅜", ½", ¾", 1" and 1¼"depths, with and without holes both ends, though double holes allow for the most options (photo 8). They are generally affixed to the units with a #6 pan or round head metal screws at a screw length long enough to hold soundly while not threading through the art board or frame. Though clips come with one or two holes, the second hole may or may not be used.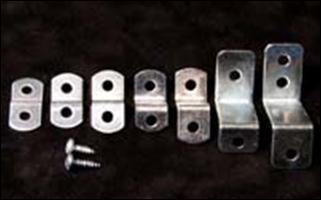 Photo 8
Offset clips come in a variety of sizes to fit most needs.
Canvas Clips
Canvas clips are specifically designed for holding canvases and work in frames both deep enough for the traditional depth canvas bars and for ones that stick a little beyond the depth of the rabbet (photo 9). They are a simple, one piece spring steel clip designed to fit 1-½" to 1-¾" stretcher bars, are reusable, easy to install, and require no tools, adhesives or fasteners. They wedge into the gap between the stretcher and the frame and when pressed down against the bar the teeth pierce the inside edge of the frame rabbet, while the opposite end of the clip snaps down to grab the inside of the stretcher bar to hold it in the frame.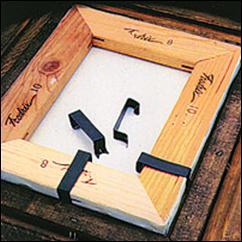 Photo 9
Canvas clips may be easy to use and reusable, but are not the best for your canvases.
Though this commercial solution is far better than a bent nail, it is still not the most secure solution to fitting a canvas. Offset clips are a far more versatile, reusable, dependable and professional option.
Spring Clips
A spring clip is a flat U-shaped metal band—structured like a recurve bow—made of spring steel used to retain artwork in sectional metal frames. Though commonly used by artists there is a problem that may occur making them an undesirable choice when framing matted original art on paper (photo 10-11). The pressure that holds backing boards and glass against the front lip of the frame creates unfavorable pressure points along the perimeters of the art which can damage boards. In humid environments the areas between the clips—that have no pressure—can absorb moisture and warp as the paper products expand creating a wavy window mat. This is damage that cannot be reversed because once paper fibers have swollen by moisture they never retract to their original size even once again dry. Rather than using spring clips it is better to cut filler boards the size of the frame and fill the entire rabbet.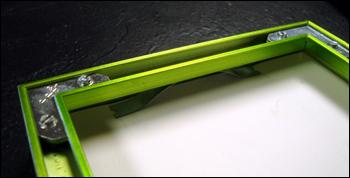 Photo 10
Spring clips can be damaging to paper if humidity is present by putting uneven pressure on the paper layers. Photo is advised.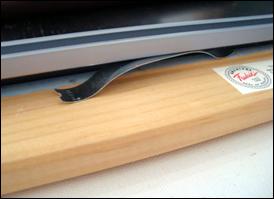 Photo 11
Spring clips may safely be used with stretcher bars and hardboards.
Spring clips are fine for fitting rigid paintings including commercial stretched canvases, wood panels or cradles in metal frames because the wood substrate will not warp with humidity.
END
Copyright © 2014 Chris A Paschke
Chris A. Paschke, CPF GCF, Tehachapi CA, received Certified Picture Framer (CPF) status 1986 from Professional Picture Framers Association (PPFA) and Guild Commended Framer (GCF) status 1997 from Fine Art Trade Guild (FATG) UK. She was awarded the PPFA Award of Distinction 2008, the PPFA Award of Recognition and Innovation 2010, and PMA Distinguished Service Award 2012 for her ongoing research on framing giclées and digitals. Author of The Mounting And Laminating Handbook, Third Edition, she has been mounting specialist, educator, author and columnist to the framing industry for more than 25 years.
For more articles on mounting basics look under the mounting section in Articles by Subject.
Additional information on all types of mounting is found in:
The Mounting and Laminating Handbook, Second Edition, 2002,
The Mounting And Laminating Handbook, Third Edition, 2008 and
Creative Mounting, Wrapping, And Laminating, 2000 will teach you everything you need to know about getting the most from your dry mount equipment and materials as an innovative frame designer.
All books are available from Designs Ink Publishing through this website.
Chris A Paschke, CPF GCF
Designs Ink
Designs Ink Publishing
785 Tucker Road, Suite G-183
Tehachapi, CA 93561
P 661-821-2188
chris@designsinkart.com