Paschke Online
Designs Ink Publishing Article Archive and Reference Library
Articles by Chris A. Paschke, CPF GCF
The Artists Magazine
"Working With a Custom Framer"
December 2015
The thought of having something professionally framed sometimes makes artists queasy with intimidation. Emotions run from "it's too expensive" to "why can't I just do it myself?" Generally, if you can do it yourself it is most likely you will, but once you develop a good working relationship with a framer the two of you will become a team that works toward the very best at enhancing and protecting your fine art.
Here are a series of questions for you to consider that may help to put you more at ease.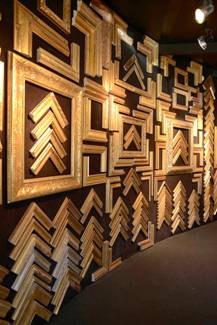 Framemakers of Santa Fe, NM is a high-end resource for many framers for period frames. They assist in the research and make suggestions in able to create authentic presentations.
1. What are the advantages of using a professional framer?
There's more to a framer than simply framing your art. A professional custom framer is trained in the care and preservation of art. Not only can they guide you through the design process they can also explain when buffered rag mats are best or when unbuffered rag mats might be better; the difference between economy paper mat and rag mat; the pros and cons of glass over acrylic when glazing; various types of mounting methods for your medium; and when and why any of these might be the best choice.
To a framer it's not about pushing for a higher priced sale, but rather finding the proper materials for the art being framed, at a price that works for the client. Working with a framer is more than convenience; it's the opportunity to learn more about the care of your art. A framer should always talk with you about the preservation of your original and should suggest reversible methods and neutral materials when framing or storage. If you opt out of preservation methods you may be asked to sign a release so the framer is not responsible for damage that might occur over time. Keep in mind that you are the customer and although your framer may know more about the display and care of your original, you are the artist and the final decisions about the framing are always yours…right or wrong.
Full service framers will have a frame designer to assist you in your selections. A wall of 3000 frame corners and a thousand mat samples can be rather overwhelming. A good designer should offer you two or three different approaches to showcase your piece while always maintaining the dignity of the medium, be it watercolor, oil, pastel or photo, then will narrow down the options as you discuss the design. This is a very collaborative process.
Your designer should be able to point out why the selected colors, spacers and frame(s) are working with your art and help draw the eye into it. A frame should complete an already fabulous piece of art, so it should be noticeable, but not so much that is distracts from the art. Other services available from framers may include: home or business delivery; singular installation; installation of professional hanging systems—Arakawa, Takiya, STAS, Newly; and construction of storage or shipping boxes. (photo 1)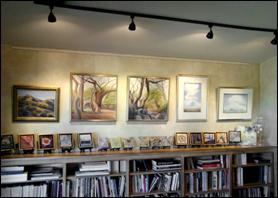 Photo 1
Professional level gallery and studio hanging systems—Arakawa, Takiya, STAS, Newly—may be purchased and installed by many framers. This is an Arakawa system installed at Walker-Strahan Studio, Redding CA.
2. What questions can you expect a framer to ask you?
Your framer will begin by asking a few basic questions to get to know a little about you, your home and your art. It helps for them to know wall color, flooring, basic furniture, and your personal design aesthetics, but that is not to say that framing should match the sofa. When framing is well designed it will very often meld into any décor, and since current decorating is rather eclectic, good design fits anywhere.
They should ask if you have a vision for the framing or anything specific in mind. They will also need to know if there is an expedited turnaround time or if there is a budget, this is particularly the case with corporate projects. They will also need to know if there are any specific installation challenges like a brick or marble wall, or other location issues such as a basement or bathroom. Intended display location will dictate special hardware needs and if special treatments are required, like sealing the inner package against moisture and humidity. (photo 2)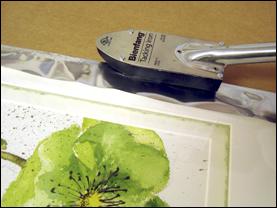 Photo 2
This original painting was to be displayed in a full bathroom so it required a sealed package, using MarvelSeal, to protect the watercolor and mats against humidity.
Be prepared to discuss your particular media—watercolor, pastel, oil, photo—in terms of your historical, traditional and/or competition needs. Most importantly don't hesitate to share what you know, but also be open to framer suggestions, and learn as much as you can from each other. A framer wants to keep you as a valued customer so they want the best for the art and for you.
3. What questions should you ask a professional framer?
Try to understand that all imagined framing ideas may not be possible to achieve. It is very difficult to centrally float a wax soaked encaustic monoprint if hinges have not been fused to the top back corners using encaustic medium and heat fusion. A framer may know that's what needs to be done but they are not legally allowed to do that as a service for you because it is altering the original and only an artist can do that. (photo 3)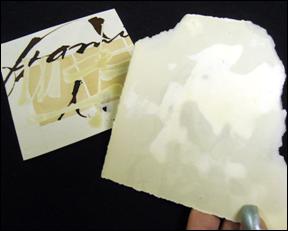 Photo 3
Traditional starch pasted Japanese hinges will not adhere to wax saturated paper. Encaustic monoprints and saturated originals will require heat-set encaustic medium to set hinges, which will need to be done by the artist for the framer.
Look around when you get there and review the framed samples they have on the wall. Most framers specialize in something—tabernacle or multi angle frames; hand carved, closed corner gold leaf frames; needleart; memorabilia; unusual matting techniques—and these are all signs of a framer's skills. If a framer has a good clientele or they have been recommended, that is always good. Word of mouth is the very best acclaim.
If you have special concerns or requests it might help to write them down so you do not forget them. Don't hesitate to ask for explanations about preservation techniques or why they are important.
4. How can you tell a good framer from a less desirable one?
As mentioned above, framers are not allowed to alter your art in any way. If you want something cropped square you should do that before you arrive. If you plan to have your art mounted to a backing board it needs to be done prior to applying pigment or medium. Framers cannot apply fixatives, lacquers or trim original art in any way, and if they offer to do so, they may not be the framer for you.
Look for shops that advertise they are members of the Professional Picture Framers Association (PPFA) and promote having one of more Certified Picture Framers (CPF) or Master Certified Picture Framers (MCPF) on staff. Both designations are awarded to PPFA members who have studied and past written and hands-on tests proving their skills in the major segments of picture framing allowing them a working knowledge of art mediums, preservation, mounting, matting, frame construction, glazing, needleart, canvas, and objects. They are also schooled in knowing when they should be helping locate a specialist or conservator about your project. A well trained framer will also know their limitations. That doesn't make them less of a framer, it makes them honest.
They should not be using screweyes or sawtooth hangers on custom framed pieces; dust covers should be of higher end materials like Tyvek or blue-grey neutral pH paper, not brown or black Kraft paper. Art should also never stick out behind the back of the frame, meaning the rabbet it is too shallow for the art. This is a common problem for stretched canvases and deep cradled panels. Have them explain the differences to you about glazing options.
Do not select a framer because of 50% off sales or BYGO sales. Those are great if you are framing things yourself and can cash in on a good deal. Your framing professional is an art caretaker…would you go to a doctor who gives a 50% off special? Sales are good but pay attention to what you are getting.
5. Are there ways you can bring down framing costs?
All too often framing is an afterthought for artists or simply a stressor they feel eats up money. The truth is that a frame can make or break a piece of art. Custom framing is just that "custom" and should be equated to the purchase of fine furniture, since quality moulding for frames is often imported and hardwood frames are high quality. Frames are made of hardwoods, soft woods, MDF (multiple density fiber board) and polystyrene.
Profiles and colors may appear similar when viewed as corners or readymade frames, but the weight and/or price of the frame will tell. You do get what you pay for. You will save money if you opt for a narrower or smaller profile, but don't go to plastic or MDF. Use a single mat rather than a triple mat with spacers, but don't skimp on preservation mounting or mat boards less than conservation quality. Regular glass is significantly cheaper than museum glass, but don't use less than UV glazing.
Collectors expect the best and correct styles for the art period. Western oil paintings that replicate the period from the Taos Society of Artists, circa 1915, should have a replica of a period closed corner, gold leaf frame to be authentic, but a contemporary cowboy painting with that flavor may opt for a rustic barnwood frame at a fraction of the cost. (photo 4) Generally only quality higher end framers will have the contacts and/or samples for real leaf and hand carving.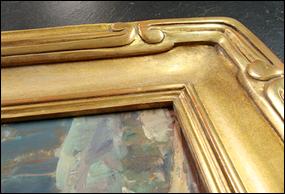 Photo 4
This custom hand carved, gold leaf frame was constructed specifically for the period and the original Ned Jacobs oil painting.
When completing a series of paintings for an exhibition, there should be continuity. Artists often bargain shop their frames thinking the frame is not important, which may unintentionally reduce the sales potential. It takes money to make money. A cheap frame will make the art look cheap. Investing in the right framing will increase the value of your original. If you are planning on displaying your painting for sale you need to consider the target market and not think from the pocketbook.
6. What styles of frames are timeless or classic; what framing styles are currently popular?
All art has a period from which it originates and contemporary styles are driven by decorating trends, colors, and popularity. Traditions are the toughest thing to overcome. As recently as five years ago it was written that weighted mat bottoms where the preferred practice. Not true. Weighted mats are the result of Victorian framing practices, when frames were hung high on the wall and the bottom of the frame visually blocked the bottom of the mat. That tradition was abandoned decades ago with mat borders having no standard width or proportion requirements at all.
Plein air painting remains popular with artists but the concept of plein air frames being a specific style of wide, flat profile in gold, silver or walnut is antiquated at best. They are indeed manufactured and sold worldwide because of artist demand, while artists demand that style because they think it is the right thing to use.
Current trends of gallery wrapped canvases and box panels have lent to the design and development of float (floater) frames. Stimulated by the furniture industry, gallery wraps were the economical solution for wholesalers to eliminate the frame. Though this is true, it was designed for inexpensive art reproductions and not for fine art originals.
Sadly, artists have also embraced the gallery wrap as a way to get around the need for frames. Hence they indeed sell their piece without the additional investment, but many buyers and collectors feel it is an incomplete painting. Having no frame defeats the entire purpose of the protection of a frame by leaving the face of the art unprotected and subject to potential surface damage if it were to fall face down against the floor.
END
Copyright © 2015 Chris A Paschke
Chris A. Paschke, CPF GCF, Tehachapi CA, received Certified Picture Framer (CPF) status 1986 from Professional Picture Framers Association (PPFA) and Guild Commended Framer (GCF) status 1997 from Fine Art Trade Guild (FATG) UK. She was awarded the PPFA Award of Distinction 2008, the PPFA Award of Recognition and Innovation 2010, and PMA Distinguished Service Award 2012 for her ongoing research on framing giclées and digitals. Author of The Mounting And Laminating Handbook, Third Edition, she has been mounting specialist, educator, author and columnist to the framing industry for more than 25 years.
For more articles on mounting basics look under the mounting section in Articles by Subject.
Additional information on all types of mounting is found in:
The Mounting and Laminating Handbook, Second Edition, 2002,
The Mounting And Laminating Handbook, Third Edition, 2008 and
Creative Mounting, Wrapping, And Laminating, 2000 will teach you everything you need to know about getting the most from your dry mount equipment and materials as an innovative frame designer.
All books are available from Designs Ink Publishing through this website.
Chris A Paschke, CPF GCF
Designs Ink
Designs Ink Publishing
785 Tucker Road, Suite G-183
Tehachapi, CA 93561
P 661-821-2188
chris@designsinkart.com