---
Chris Paschke is an accomplished fine artist and calligraphic designer currently residing in Tehachapi, California. Her fascination for calligraphy and pen written letterforms began in college and has been a lifelong study. First captured by the precision and structure of historic illuminated alphabets, her work was set free when studying with European masters from Germany, Austria, and Russia who encouraged abstraction and personal interpretation.
More recent years have pursued studies in traditional Japanese sumi-e, Chinese painting techniques and calligraphy.The type of minimalism inspired by Asian thought is seen in her softer grasses, florals, and decorative collages. Her comfort and skill with the pointed brush and Asian calligraphy has inspired on-going study with Asian masters of calligraphy and Sumi-e in both Asia and the USA, having been to China five times by 2007. She prefers purchasing her ink, brushes and handmade papers in Asia where the materials are traditional and there is a far better variety.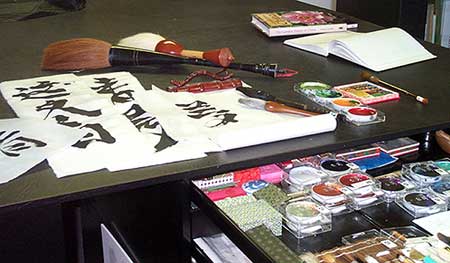 Her original calligraphy, calligraphic abstractions and Asian interpretations in the Calligraphy and Asian Galleries of this site are contemporary collages of color and texture inspired by the abstract expressionist movement and in particular the art of Kline, Pollock, Rothko and Motherwell. About ten years ago she discovered the early still life tinted washed lithographs of Andy Warhol. This look then combined with traditional Chinese heavy line scroll paintings which has produced a large group of bold, linear floral and still life images with tinted color washes.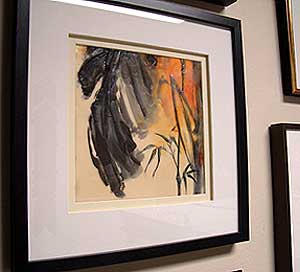 Her most recent passion has been working with encaustic medium. Encaustic is the ancient art of melting purified beeswax and damar crystals together that may then be painted, poured, and spread onto Baltic birch and hardwood panels. Each newly applied layer must be heat fused to the previous layer in order to truly be considered encaustic, though use of opaque and translucent waxes is also found in mixed media on paper. This medium is unlike any other in the way it is initially prepared, applied, and then displayed upon completion. It may be two or three dimensional and is used in sculpture as well as on its own. The image here illustrates encaustic over a sumi painting that was mounted to rag board, then carved into to reveal the ink details after completion. It was then sink mounted under glass. The newest Encaustic Gallery has a sampling if current images both on panels and 8-ply rag boards.
"I have spent my entire life drawing, sketching, painting, lettering, and framing. I've been trained to make paper, grind ink, build brushes, cut quills, and frame finished art. I have created logos, designed certificates, and produced 4' x 8' originals for corporate collections, but wax is my newest love. It is sensitive and beautiful, responsive yet defiant...I just love it."
Instructional: Classes and Published Articles
Private Collections
American Express Corporate Offices, New York, NY
Berkman/Framemakers, Austin, TX
C. Butwinski, Freestone, NJ
C. Miller Real Estate, Ventura, CA
C. Nicotra, Southbury, CT
Crescent Cardboard, Wheeling, IL
DSR Corporate Offices, Tehachapi CA
Framerica Company, Bohemia, NY
Freeman Windt Collection, Chicago, IL
G. Van Vleck, CA
Gallery Helden, Corporate Office, The Netherlands
G&F Haun, Los Angeles, CA
Goldleaf Framemakers of Santa Fe, NM
GPS Corporate Office , Copperopolis, CA
Harrison Collection, San Francisco Public Library, CA
Herman Design Corporate Offices, Rego Park, NY
Hollywood Frame Gallery, CA
Hunt Corporation, Philadelphia, PA
In-Yung Kim, Stanford, CA
Irvin & Nicholson, Reno, NV
J. Doherty, Bristol, CT
Jaimee Wong, Beijing, China
JCM American Corporation, Las Vegas NV
Larson-Juhl, Norcross, GA
Loskorn, Colorado Springs, CO
N. Boggs, Chicago, IL
N. Pearce, New Haven, CT
Nine Lotus Mountain, Jiu Lian Shan, China
Pan-Woods Enterprise Co., Ltd., China
Permanent Eyes, Laguna Beach, CA
S. Diego, Omaha, NB
Shaffer Group, Wilton, CT
The Art Group, New Haven, CT
Tucker Collection, Portland, OR
US Department of State, Washington, DC
Walker-Strahan Collection, Redding, CA
West Wind Studio, CT
Winchester Galleries, CT
Xanadu Consulting, Redding, CA
Back to Top
Associations and Affiliations
International Encaustic Artists (IEA), since 2007
Sumi-e Society of America (SSA), since 2004
Color Marketing Group, since 2000
Photo Marketing Association (PMA), 2000-2015
Fine Art Trade Guild (FATG), UK, since 1996
Friends of Calligraphy (FOC), San Francisco CA, since 1979
Professional Picture Framers Association (PPFA), since 1972
Back to Top
Exhibitions
INVITATIONAL
Kalligraphia XVI, FOC Exhibition, SFPL Special Collections, San Francisco CA, April-July 2022
Tehachapi Valley Artist Association (TVAA), Fine Arts Show, December 2019
Tehachapi Valley Artist Association (TVAA), Painters & Photographers, December 2018
Kalligraphia XV, FOC Exhibition, SFPL Special Collections, San Francisco CA, July-September 2018
Tehachapi Valley Arts Association (TVAA) Invitational Show, Artists Unleashed, Tehachapi CA, December 2017
Tehachapi Valley Arts Association (TVAA) Invitational Show, Artists Within, Tehachapi CA, December 2016
Kalligraphia XIV, FOC Exhibition, SFPL Special Collections, San Francisco CA, July-September 2015
Tehachapi Valley Arts Association (TVAA) Invitational Show, Art on the Mountain, Tehachapi CA, March 2015
Tehachapi Valley Arts Association (TVAA) Invitational Solo Show, The Written Word As Art, Tehachapi CA, March 2014
Tehachapi Valley Arts Association (TVAA) Invitational Solo Show, Encaustics, Tehachapi CA, March 2013
Kalligraphia XIII, FOC Exhibition, SFPL Special Collections, San Francisco CA, July-September 2012
International Encaustic Artist's HARMONY Project, Cerrillos NM, 2011
Kalligraphia XII, FOC Exhibition, San Francisco CA, July-September 2009
The Taos Seven Invitational, Gold Leaf Framemakers of Santa Fe NM, October 2007
Words, Images, Gestures, Juried Exhibition, Guilford CT, June-August 2007
Kalligraphia XI, FOC, San Francisco, CA, July 2006
Ice House Gallery, Invitational, Berkeley Springs WV, January-March 2004
Kalligraphia X, FOC, San Francisco CA, 2003
ArtExpo New York NY, March 2001
Art21 Las Vegas NV, October 2000
Ambiente, Frankfurt, Germany, 2000
Spring Faire Utrecht, The Netherlands, 2000
Tendance, Frankfurt, Germany, 2000
Autumn Art Faire Utrecht, The Netherlands, 1999
Art21, Las Vegas NV, November 1999
Guild Artist Traveling Exhibition, UK, May-October 1999
Richard Beasley National Invitational Tribute Exhibition AZ, September 1993
Calligraphy On Exhibit, Invitational, Chicago IL, 1990-91
CCC Exhibition, Invitational, Tiburon CA, 1989
CFA Gallery, Two Fine Arts Too, Redding CA, 1986
Invitational Exhibit for United Nations Day, Washington DC, 1986
JURIED
Sumi-e Society of America 59th Annual Juried Exhibition, Paintings & Calligraphy, Award Winner, Online Exhibition, September 2022-July 2023
Tehachapi Valley Artist Association (TVAA), Exhibiting Artist, Tehahcapi CA, February 2013-February 2022
Charisse Fine Art, LA Art Show, Online, May-June 2021
Sumi-e Society of America 57th Annual Juried Exhibition, Paintings & Calligraphy, Online Exhibition, September 2020-2021
Calligraphies in Conversation, Crossing Boundaries, International Online Exhibition, November 2018-January 2019
Calligraphies in Conversation, In Search of Hidden Meaning, International Online Exhibition, March-June, 2018
Crossroads Gallery, Exhibiting Artist, Tehachapi CA, 2009-2012
Crossroads Gallery Featured Artist, Tehachapi CA, January-May 2010
Crossroads Gallery Featured Artist, Tehachapi CA, May-September 2009
ACA ArtWords III, 3rd International Calligraphic Cyber Exhibition, January 2005-December 2006
ACA ArtWords II, 2nd International Calligraphic Cyber Exhibition, November 2003-December 2004
Word for Word, Juried Exhibition, Troy-Hayner Cultural Center, Ohio, August-September 2003
ARTwords: 1st International Cyber Calligraphic Exhibition, Sept 2002
Calligraphic Enigma, Juried Exhibition, Gilford CT, June 2001
Writing Beyond Words Traveling Exhibition, Guilford CT, July 1999
Kalligraphia I-VIII, FOC, San Francisco CA, 1979-1997
Moments in Calligraphy, Sun Gallery Juried Show, Hayward CA, 1990
CCC Exhibition, Invitational, Tiburon CA, 1989
Nuclear Disarmament Juried Traveling Exhibit, San Francisco CA, 1986
Hanson Howard Gallery, Words of Shakespeare Solo Show, Ashland OR, 1982
Back to Top
Publications
Letter Arts Review, Volume XXIV:I, International Juried Publication, Morning Sun, Winter Moon, 2019
IEA Wax-On, Member Profile Featured Artist, April 2013
Letter Arts Review, Volume XXIII:II, International Juried Publication, Embedded Fortune, Layers Of Water, Gilded Dreams, 2009
GREAT FRAME DESIGN, by Greg Perkins, PFM Books, Morganville NJ, Featured Artist, 2009
Letter Arts Review, Volume XXII:I, International Juried Publication, Abstract Dreams, 2007
Writing Beyond Words, Guilford CT, 1999
LETTERING DESIGN, PBC Inter. Inc., Juried book, 1993
Calligraphy Review, Volume IX:III, Annual Juried Publication, EAofR, 1992
FLORAISON, French Invitational Juried Fine Arts Book, 1987
FLORILEGE, French Invitational Juried Fine Arts Book, 1987
Back to Top
Licensing Affiliations
Antioch Publishing Co.
Big Fortune Arts and Crafts Co, Ltd
Blonder Home Accents
C & F Enterprises, Inc.
Cedco Publishing Company
Chirpwood
CoasterStone
Converting, Inc.
Creative Converting
Creative Co-Op, Inc.
Croscill, Inc.
Designer Greetings
Dura Velasco, LLC
Enchante Accessories, Inc.
Grand Image, LTD
Highland Graphics
Home Comfort, Inc.
Intercontinental Art, LLC
Leanin' Tree, Inc.
Mohawk Carpet Distribution Inc.
New View Gifts & Accessories
Open House Productions
Peter Pauper Press, Inc.
Pimpernell International
Prima Donna Inc.
Roma
Sagebrush Fine Art
ThirstyStone
Trends International
Tweel Home Furnishings, Inc.
WallQuest Inc.
Westex International
Wild Apple Licensing
Windham Fabrics/Baum Textiles
Back to Top
Achievements
PFM Publishing, Picture Framing Magazine, Consulting Editor, January 2022 to date
PFM Publishing, Picture Framing Magazine, Interim Editor, September-December, 2021
Studio EL, LLC., Licensed Artist, 2017 to date
Editions Limited/Studio EL Licensed Artist, 2013 to 2017
Wild Apple Licensing, Contributing Artist, 2016 to date
Photo Marketing Association (PMA) Distinguished Service Award, 2012
Professional Picture Framers Association, International PRINT Competition Head Judge, Las Vegas NV, January 2012
Professional Picture Framers Association (PPFA) Award of Recognition for Innovation, 2010
Independent Licensing Artist, August 2009 to date
Applejack Art Partners Licensed Artist, 2008-2009
Designs Ink Publishing released The Mounting And Laminating Handbook, 3rd Ed, March 2008
PPFA Leadership Award of Recognition, January 2008
Roma Home Decor, Limited Edition Artist since June 2007
Brushstrokes Contributing Artist, September 2006
Artaissance Featured Artist, since July 2006
Color Marketing Group Chairholder status, 2005
Member Sumi-e Society of America, since 2004
Appointed PPFA Competition Board Chair, July 2003 to 2008
Designs Ink Publishing released The Mounting And Laminating Handbook, 2nd Ed, January 2002
Launched www.designsinkart.com website, June 2001
Published Creative Mounting Wrapping and Laminating, January 2000
Wild Apple Licensing, Contributing Artist, 1999-2007
Signed to Wild Apple Graphics as Asian artist, July 1998
Published FE The Mounting and Laminating Handbook, August 1997
Professional Picture Framers Association ReCertification educator, 1997
Awarded GCF status, Fine Art Trade Guild, England, February 1996
Professional Picture Framers Association ReCertification Educational Advisory Committee, 1996
Professional Picture Framers Association 1997 Print Selection Task Force, 1996
FACTS Individual member, 1996
Professional Picture Framers Association Awards and Recognitions Committee, 1996
Art Buyers Caravan Faculty, Framer's Palette, beginning 1996
FACTS, Seal representative, 1995
Seal, and Larson-Juhl faculties, 1995
Official Professional Picture Framers Association Sanctioned Juror, since 1995
Crescent Cardboard Educator, beginning 1995
Professional Picture Framers Association Faculty, Larson-Juhl, Fletcher-Terry, beginning 1994
ABC/DECOR Faculty, began 1994
Hunt/Bienfang Frame Designer, 16x20 Technical Presentation Art, since 1993
Miller Artboard Frame Designer, "Rock`n Roll Hall of Frame", March 1993
Educational Consultant Seal Products, Inc., CT, 1992/93/94
United States Consultant, KeenCut Limited, England, 1992
Seal Products Frame Designer, booth presentations continuing since 1990
Shasta County Arts Council Board of Directors, 1989
Far Northern California Chapter, Professional Picture Framers Association, Vice-President, 1989
Far Northern California Chapter, PPFA founding Coordinator, Charter Member and logo designer, 1989
Far Northern California Chapter, Professional Picture Framers Association (FNCC/PPFA), 1988-1989
Vice-President and Chapter Organizer of Executives Association of Redding, 1989
"Experiment" 9th Annual International Calligraphic Conference, Organizational Coordinator, CA 1989
Design Consultant CoC, Redding, CA, 1988
Co-chair of Greeters Committee CoC, Redding, CA, 1988
KeenCut Technical Advisor and Consultant, Seal Products, 1987-1991
Professional Picture Framers Guild member, since 1987
Professional Picture Framers Association Certified Picture Framer status, 1986
Owner/Artist: Designs Ink, since 1986
International Calligraphy Conference participation, since 1981
Owner/Artist: Calligraphy by CAPI, 1980-1986
Calligraphic Masters classes, European and U.S. Masters, continuing education since 1978
Creative Arts and Design B.A. Degree, 1975
Back to Top
Instructional: Classes and Articles
West Coast Art & Frame Faculty, Las Vegas NV, January 2017, 2018, 2019, 2020
Contributing Editor FATG, Art+Framing Today, "Marketing My Art", Summer 2019
PPFA Conference Faculty, "Pastels & Friable Media", Las Vagas, NV, January 2018
PPFA Conference Faculty, "Facemount & Acrylic Sandwiches", Las Vagas, NV, January 2017
Contributing Editor FATG, Art+Framing Today, "Working with a Framer", Fall 2017
Contributing Editor FATG, Art+Framing Today, "Encaustics", September/October 2016
West Coast Art & Frame Faculty, Las Vegas NV, January 2016
PPFA Conference Faculty, "Yupo", Las Vagas, NV, January 2016
PPFA/Monarch Expositions Faculty, 2015-date
Photo Marketing Assoication (PMA) Faculty, 2000-2015
Contributing Framing Editor, The Artist's Magazine, "Working With a Custom Framer", Winter 2015
Contributing Editor FATG, Art Business Today, "Floating Watercolours", March/April 2015
Contributing Framing Editor, The Artist's Magazine, "What's Wrong With This Picture?", January 2015
PPFA Conference Faculty, "Is Dry Mounting Obsolete?", "Substrates", Frame Design", Las Vagas, NV, January 2015
West Coast Art & Frame Faculty, Las Vegas NV, January 2015
Contributing Framing Editor, The Pastel Journal, "Skill Builders: Everyday Tools for Framing", August 2014
Contributing Framing Editor, The Artist's Magazine, "The Hard(ware) Facts", March 2014
Contributing Framing Editor, The Artist's Magazine, "Ask The Experts: How Does a T-hinge Work?", January 2014
West Coast Art & Frame Faculty, Las Vegas NV, January 2014
Contributing Editor FATG, Art Business Today, "Do You Know Hardware?", January 2014
Contributing Framing Editor, Watercolor Artist Magazine, "Maintaining Your Deckle Edge", October 2013
West Coast Art & Frame Faculty, Las Vegas NV, January 2013
Contributing Editor FATG, Art Business Today, "Shipping Boxes", January 2013
Contributing Framing Editor, The Pastel Journal, "Handle With Care", October 2012
Contributing Editor FATG, Art Business Today, "Providing Support", October 2012
West Coast Art & Frame Faculty, Las Vegas NV, January 2012
Fastframe Guest Lecturer, "Pressure-Sensitive Adhesives", Las Vegas NV, January 2012
Contributing Mounting Editor FATG, Art Business Today, "Pastels: Handle with Care", August 2011
West Coast Art & Frame Faculty, Las Vegas NV, January 2011
Contributing Editor FATG, Art Business Today, "Float Frames for Canvases", August 2010
Contributing Framing Editor, The Pastel Journal, "How to Speak Framer" June 2010
Contributing Framing Editor, Watercolor Artist Magazine, "The Care & Framing of Watercolors", February 2010
West Coast Art & Frame Faculty, Las Vegas NV, January 2010
IEA Retreat, Framing Lecturer/Demonstrator, October 2009
3rd International Encaustic Conference Framing Lecturer, June 2009
Launch of DesignsInkPublishing.com, 2009
Chris A. Paschke, CPF GCF Article Archive and Reference Library, 2009
Release of THE MOUNTING AND LAMINATING HANDBOOK, Third Edition, March 2008
West Coast Art & Frame Faculty, Las Vegas NV, January 2008
Release of THE MOUNTING AND LAMINATING HANDBOOK, Second Edition, January 2002
Picture Framing Magazine Columnist The Essence Of Design, 2000-2001
Featured Lecturer Ambiente, Germany, February 2000.
Featured Lecturer SACA, Bologna Italy, February 2000.
Release of CREATIVE MOUNTING, WRAPPING AND LAMINATING, December 1999.
Guest Lecturer at Tendance, Germany for Art Expressions Magazine, August 1999.
Guest Lecturer at Ambiente, Germany for Art Expressions Magazine, February 1999.
" Writing Beyond Words" Faculty, International Calligraphy Conference, August 1999.
Seal Products Demonstrations, Seminars and Hands-on Laboratory Workshops, 1997-2005
Mastering Mounting monthly column Picture Framing Magazine, to date
Release of THE MOUNTING AND LAMINATING HANDBOOK, August 1997
Decor Magazine Featured Mounting Specialist, FrameORama, March 1994
Picture Framing Magazine Columnist The Design Process, 1994
Professional Picture Framers Association Faculty, since 1994
Seal/Fletcher/Dahle HOW-2 Instructor, began 1994
Larson-Juhl Traveling 2-day Mounting Workshops, 1994
Assorted PPFA Chapter Engagements, Lecture and Hands-on Education, beginning 1993
Picture Framing Magazine Technical Mounting Editor, since 1993
Professional Picture Framers Association Faculty, 1993 to date
Seal/Fletcher/Dahle 1993 HOW-2 Instructor
Larson-Juhl FRAMEFEST Featured Lecturer, 1993
TruVue Miller Artboard Featured Lecturer, 1993
MOSAIC 12th International Calligraphy Conference Faculty, Michigan 1992
Larson-Juhl FRAMEFEST International faculty, 1992
Seal/Fletcher HOW-2 Instructor (traveling program), 1992
Professional Picture Framers Association Featured Workshop/seminar Instructor, 1992
Picture Framing Magazine Contributing Editor and Columnist, Mastering Mounting, since 1991
Published "Mat Design" Fliers, Seal Products, since 1990
Larson-Juhl, "Mounting" and "Surface Mat Design", MN, 1990
Larson-Juhl, Demo/lec/workshop "Mounting Profits", WA, 1990
Juror Framing Comp., Ben Franklin Conv., Kansas City, 1990
Michigan Moulding Open House, Lecture/juror, MI, 1990
Framing Design Consultant, Seal Products, since 1990
Seal Products, National HOLW Instructor, since 1989
Great Frame-Up Conv., Guest Instructor, CA, 1989
Professional Picture Framers Association Chapter Faculty, since 1989
Seal Products, KeenCut Mat Cutter Demo/Lecturer, since 1987
Designs Ink, Master Class Instructor, Calligraphic Design, 1986-1989
Calligraphy by Capi, Calligraphic Arts Instructor (all levels), 1980-1986
Hobby Hut Inc., Calligraphic Design and Fine Art Seminars, 1977-1987
Back to Top